Global Perspectives: UAE in the Caspian Region
Image source: Akorda Press Service
This piece is part of a larger series, "Global Perspectives," that examines policy engagement of other countries in the Caspian Region.
Introduction and Background:
The United Arab Emirates (UAE) has become known as a hub for economic ventures including but not limited to real estate, traditional and renewable energy, aviation, tourism, and finance. In the past few years, the UAE has been seeking new projects in the countries of the Caspian Region in ways that both develop economic success and contribute significantly to connecting the Caspian to the wider region around it and to the broader world. In a surge of diplomatic endeavors, the UAE has sought to wield influence and nurture relations with other countries primarily through economic investiture. The UAE has used its economic might to create a global footprint that in turn, carries an influential diplomatic weight.
UAE Investiture Information:
The UAE is able to extend its energy and economic diplomacy, primarily through its wealthy, state-owned companies. Holding companies such as Mubadala, renewable energy companies such as Masdar, as well as its significant array of airline companies, have allowed the UAE to extend its influence and cooperation to countries willing to boost their own economies and integrate themselves in the global markets.
UAE companies have become increasingly vested in Caspian economies, and this has become evident through the opening of flagship offices of UAE state-owned energy companies such as Masdar. Masdar on February 6, 2023 inaugurated its Baku office.
Recently, UAE-based Masdar has been especially active in project development in the Caspian Region, and this in part can be attributed to its recent restructuring. Masdar was started by the UAE sovereign wealth fund, Mubadala in 2006, and in December of 2022 announced a new shareholding structure in which "Taqa TAQA.AD holds a 43% stake, Mubadala retained its 33% stake and Abu Dhabi's National Oil Company ADNOC (ADNOC.UL) holds a 24% share." With this new structure, Masdar has espoused a new set of goals: to advance to at least 100 GW of renewable energy capacity (most of which would be from wind and solar energy) by 2030, and to advance its new green hydrogen business to achieve an annual production capacity of up to 1 million tones by 2030.
Kazakhstan:
Since 2021, the UAE and Kazakhstan have begun joint economic endeavors, primarily in the fields of renewable energy. In September of 2021, UAE-based holding company ADQ, together with Abu Dhabi National Energy Company PJSC (TAQA) signed a long-term strategic agreement with Kazakhstan's sovereign wealth fund, Samruk-Kazyna. This deal was enacted with the primary goal being to invest in ventures related to Kazakhstan's energy sector. The agreement enabled the two Emirati companies to invest up to $6 billion USD to fund energy projects in Kazakhstan. Through this agreement, the Samruk-Kazyna, TAQA, and ADQ effectively formed a separate holding company intended for their joint endeavors, which would include the two Emirati companies receiving stakes in two hydroelectric power plants, as well as building a solar power plant, a wind farm and a gas power plant in Kazakhstan.
Following this significant inauguration of Kazakhstan-UAE partnership, Prime Minister of Kazakhstan, Alikhan Smailov's visit to UAE in September 2022 resulted in signing of investment agreements in economic ventures that are worth $900 million. CEO of Mubadala, Musabbeh Al Kaabi, met with Smailov and expressed enthusiasm for investing in projects related to Kazakhstan's green energy, finances, mining, and oil and gas industries, and ADQ expressed interest in Kazakhstan's pharmaceutical, food production, logistical, and renewable energy ventures.
Furthermore, during Abu Dhabi Sustainability Week (ADSW), during the week of January 16, 2022, President of Kazakhstan Kassym-Jomart Tokayev, and President of the UAE Sheikh Mohamed bin Zayed Al Nahyan, discussed expanding ties, emphasizing cooperation in renewables, economy, and logistics. The leaders also discussed cooperation between both countries' international financial centers.
Azerbaijan:
The UAE has demonstrated invested interest in nurturing productive relations with Azerbaijan. Most notably, there have been several recent developments, boosting cooperation in the renewable energy field. Masdar has especially concentrated its recent efforts in Azerbaijan, with its opening an office in Baku on February 6, 2023. Just one month before, State-owned oil company of Azerbaijan (SOCAR) and Masdar partnered on several offshore wind and green hydrogen projects in Azerbaijan, set to produce 2 GW of power, as well as smaller solar and onshore wind projects. SOCAR and Masdar agreed on expanding their established partnership through developing agreements on 1 GW of solar photovoltaic (PV) projects and 1 GW of onshore wind. Not only will the two state-owned companies produce the 4 W, but there is also room for further development, with the stated possibility of Masdar opting to develop projects, set to produce 6 GW. Masdar CEO, Mohammed Jameel Al Ramahi, stated: "Masdar sees Azerbaijan as a key strategic partner. This signing marks a milestone on the delivery of a significant collaboration that will advance Azerbaijan's renewable energy goals and support its ongoing sustainable economic development."
Prior to this, Masdar has already invested in Azerbaijan's green energy sector through the implementation of the Garadagh solar power plant. This facility in Azerbaijan has the capacity of 230 MW. Azerbaijan's Minister of Energy, Parviz Shahbazov, also recent emphasized the importance of the Janub Thermal Power Plant, which was co-financed by the Abu Dhabi Fund for Development. The plant boasts a production capacity of 780 MW.
Not only Kazakhstan's President Tokayev, but also President of Azerbaijan, Ilham Aliyev, visited the UAE for ADSW. During the ADSW opening ceremony, Aliyev remarked that on January 15," MASDAR and Azerbaijan's national energy company SOCAR signed an agreement to develop four gigawatts of wind and solar power plants in Azerbaijan, and this is only a short-term project. Mid-term projects will increase the volume up to 10 gigawatts. And this is absolutely doable. We have a roadmap for that. This project, only this project, our cooperation with MASDAR, will transform Azerbaijan into a very important source of green energy exports." Also on the 15th, Aliyev met with President Al Nahyan to discuss increasing bilateral UAE-Azerbaijan cooperation.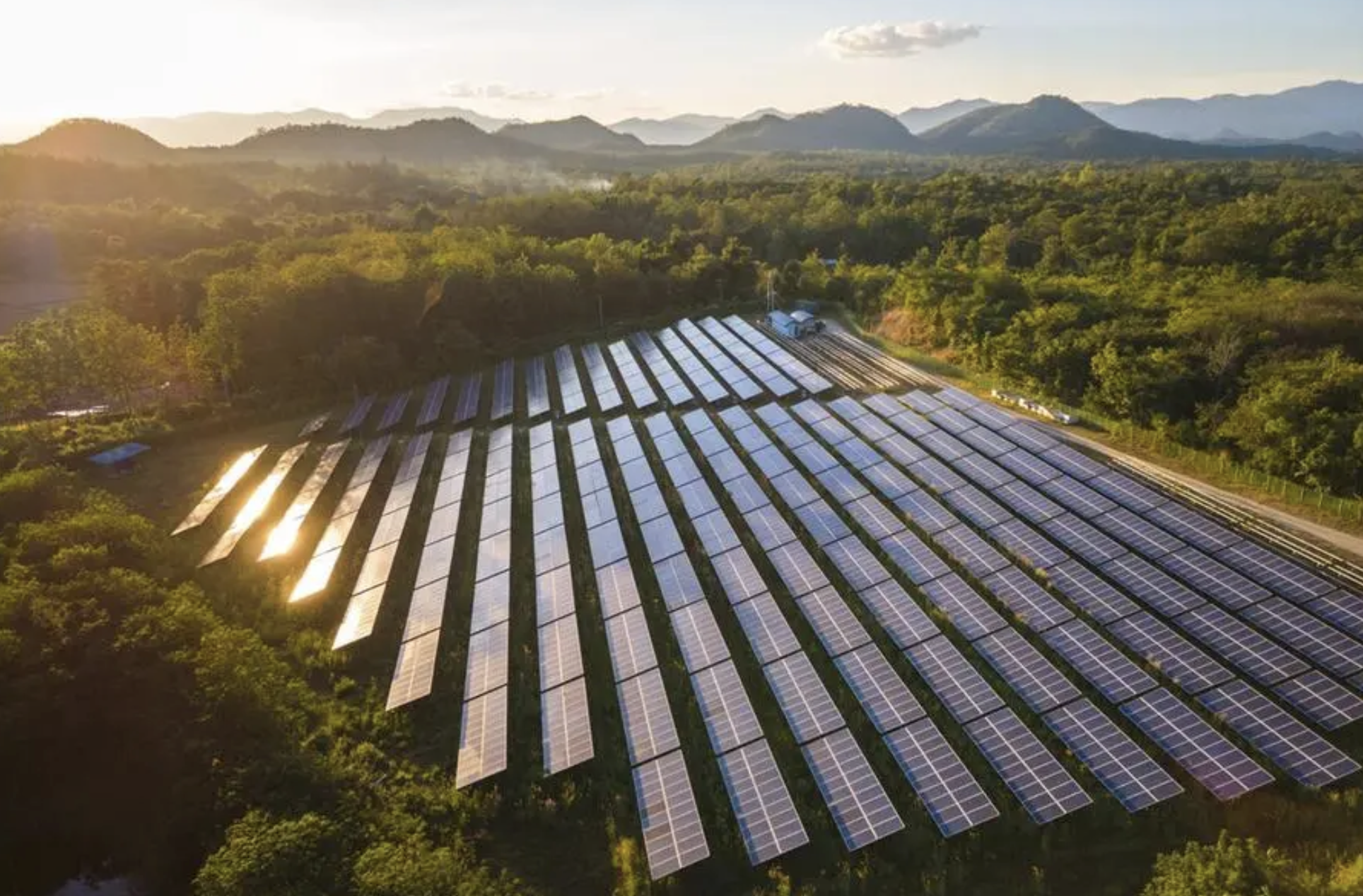 Source: ZAWYA | Garadagh solar power plant in Azerbaijan
Turkmenistan:
Increased cooperation between the UAE and Turkmenistan has become apparent especially through high-level visits. For example, in November, 2022, President of Turkmenistan Serdar Berdimuhamedov attended the UAE-Turkmenistan Business Forum. Berdimuhamedov emphasized his eagerness for cooperation with the UAE and its businesses. President of UAE Chambers and Chairman of Abu Dhabi Chamber, Abdullah Mohammed Al Mazrouei, stated, "The UAE is a major trading partner of Turkmenistan, with bilateral non-oil trade reaching US$255.3 million in 2021. This figure is expected to grow considering the keenness of both countries to explore more elements of development, expansion, and promising opportunities in all sectors, especially that Turkmenistan is located in a strategic geographical location in Central Asia with promising markets that allow investors from the UAE to explore key investment opportunities."
The forum resulted in the signing of several agreements meant to increase UAE-Turkmenistan strategic engagement. These included a non-disclosure agreement between the Agency for transport and Communications under the Cabinet of Ministers of Turkmenistan and Abu Dhabi Ports Company PJSC, a joint development agreement between Turkmenenergo State Power Corporation of the Ministry of Energy of Turkmenistan and Masdar, and a cooperation agreement between the State Bank for Foreign Economic Affairs of Turkmenistan and First Abu Dhabi Bank.
A month after the productive forum, UAE Minister of Industry and Advanced Technology, Dr. Sultan bin Ahmed Al Jaber, headed an official delegation to Ashgabat made up of Khaled Mohamed Balama, Governor of the Central Bank of the UAE (CBUAE); Mohamed Saif Al Suwaidi, Director-General of Abu Dhabi Fund for Development (ADFD); and a several government officials and individuals from the UAE private sector. The delegation met with President of Turkmenistan, Serdar Berdimuhamedov, and discussed how to enhance bilateral cooperation in the fields of oil, gas, clean energy, infrastructure, the banking sector, as well as chances for joint investment projects.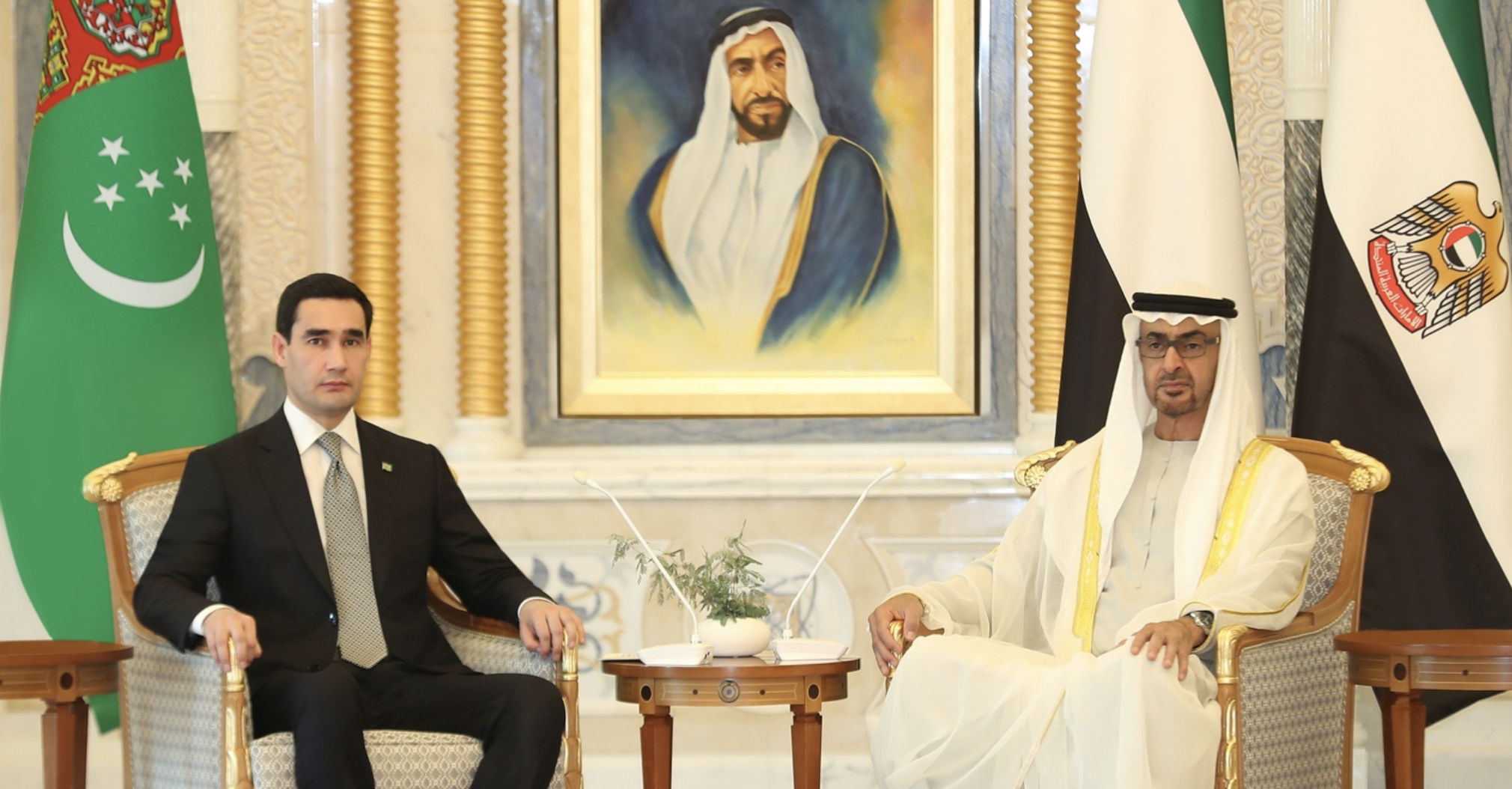 Source: Turkmenistan.gov.tm | President Berdimuhamedov and President Al Nahyan convene in Abu Dhabi
Kyrgyzstan:
The UAE has also recently began engaging more tangibly with Kyrgyzstan's renewable energy sector. Following President of Kyrgyzstan, Sadyr Japarov's visit to the UAE in October of 2022, in December, during the 2nd session of the joint Economic Commission between UAE and Kyrgyzstan, the two countries agreed to begin work on a solar power plant that would have a capacity of 200 MW. The UAE's Minister of Economy, Abdulla bin Touq, toward the UAE-Kyrgyzstan Joint Economic Committee stated that it "will open up additional potential for co-operation and partnership in a number of crucial economic areas and help investors find more lucrative investment opportunities in the markets of the two nations."
Furthermore, on January 10, 2023, Kyrgyzstan's Ministry of Energy and Masdar inked an agreement dedicated to developing bilateral clean energy projects, with an estimated capacity of 1 gigawatt (GW). Part of the discussion included plans to begin construction of a 200 MW solar photovoltaic plant in Kyrgyzstan by 2026.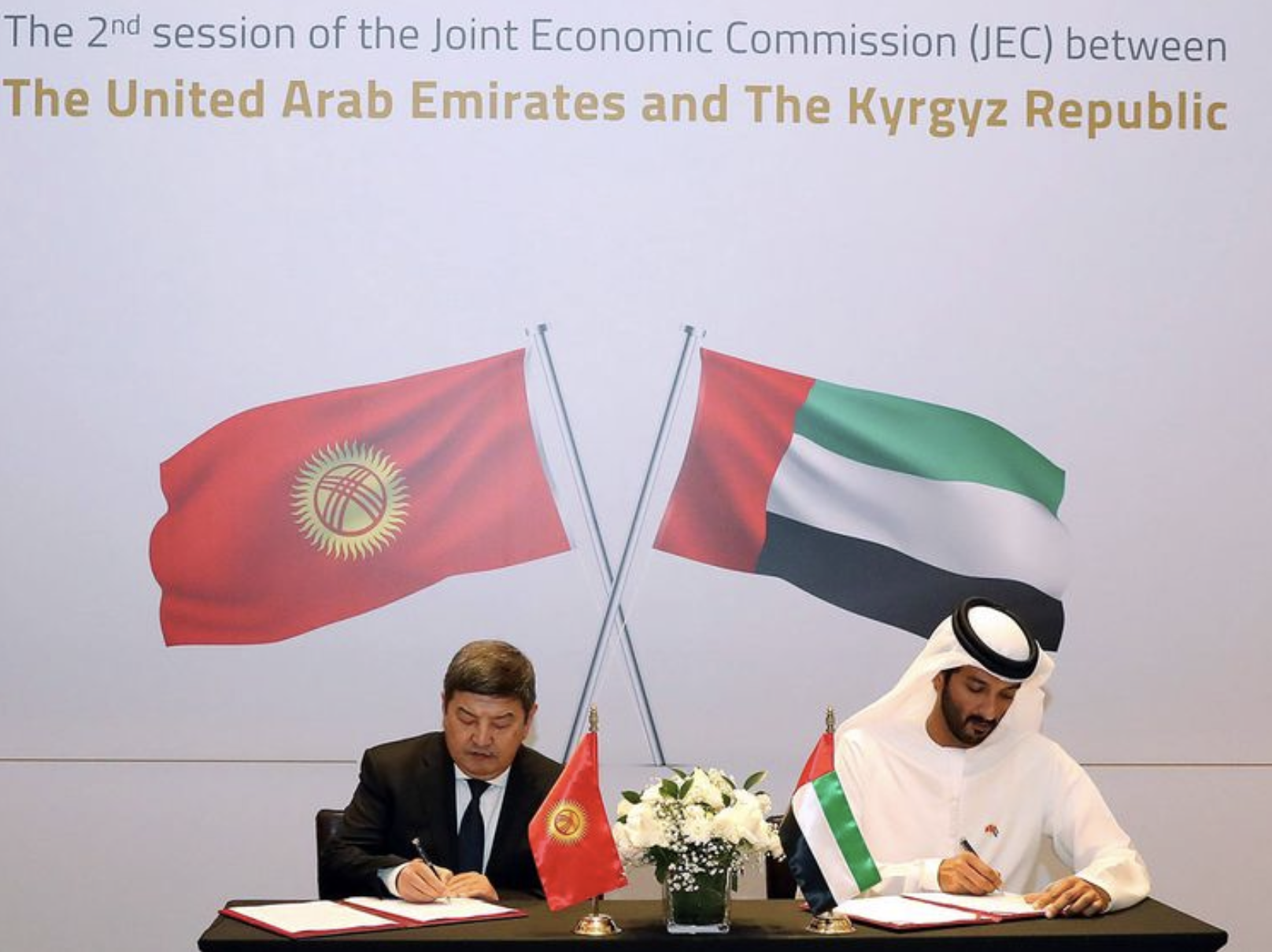 Source: Gulf News| 2nd session of the joint Economic Commission between UAE and Kyrgyzstan
Significance of UAE Airlines in Caspian Connectivity:
Another significant way in which the UAE and UAE-based companies have contributed to greater connectivity to and within the Caspian Region has been through its aviation industry. UAE-based airlines such as Wizz Air Abu Dhabi, flydubai, and Air Arabia Abu Dhabi have been integral to boosting the tourism industries of Caspian countries. In fact, since 2021, the UAE has contributed more to Kyrgyzstan's tourism industry with 16,000 Emirati tourists visiting Kyrgyzstan in 2021. Abu Dhabi Developmental Holding Company PJSC (ADQ) together with Wizz Air Abu Dhabi logged 6,000 flights in 2022, providing destinations to Almaty, Baku, Kutaisi, Astana, Samarkand, Tashkent, and Yerevan. Furthermore, in December 2021 and January 2022, Wizz Air introduced flights to Samarkand and Tashkent from Abu Dhabi. Transit to and within the Caspian Region has served as a larger roadblock to Caspian countries' economic integration with each other, as well as an impediment to tourism. The emphasis that Emirati airline companies have put on adding flights to the region is especially significant toward boosting economic partnership as well as improvingthe often under-developed regional tourism industries.
Conclusion:
As seen especially through high-level visits and increased UAE investiture into bilateral projects in the Caspian Region, primarily in the fields of renewable energy and trade, the UAE has certainly been placing emphasis on the importance of strategically engaging in the region. While the UAE traditionally had little need to engage with the region because of its comfortability in its own traditional energy industry, the gradual shift to renewable energy has paved the way for forging wider ties to achieve the larger goal of achieving net-zero. While the increased interest to nurture ties has been evident, still, more stands to be followed regarding how individual Caspian-UAE relations develop. Overall, the UAE's relations with Azerbaijan and Kazakhstan have seen the most tangible momentum, as their partnership has demonstrated to be the most lucrative, in terms of renewable energy products. However, through new projects cropping up with Turkmenistan, Kyrgyzstan, and to some extent, Uzbekistan, the capacity for expanded economic relations is very likely.