Central Asian Security and Cooperation Forum: Building a Sustainable Future for Central Asia
Image source: Islamic Organization for Food and Security
The third quarter of 2023 commenced with a notable event in Central Asia: the Central Asian Security and Cooperation Forum (CAF) that was organized by the Kazakhstan Institute for Strategic Studies (KAZISS) in Astana on July 13-14. With a theme of "Asia in a Changing World: An Agenda for the Future," the forum gathered well-known scholars and experts from not only Central Asia and Caucasus countries but also from more than 20 countries representing different regions of the world. Over 60 prominent speakers representing different governments and international institutions, such as the United Nations and European Union, discussed pressing regional issues with the collective objective to foster regional cooperation. This forum demonstrated a growing potential for Central Asia to become an important player in the world with a growing regional alliance among Central Asian countries and international recognition of their progress.
The forum kicked off on July 13 with the presence of Kazakh leaders, including Kazakh President Kassym-Jomart Tokayev and Deputy Prime Minister and Minister of Foreign Affairs Murat Nurtleu. Addressing geopolitical tensions and global uncertainties were the main themes of the forum. In addition, a wide array of topics came under scrutiny, including economic challenges, climate change, water scarcity, counterterrorism, and nonproliferation efforts.
A recurring theme during the forum revolved around Asia's influential standing on the global stage and the imminent "Asian century." As the director of KAZISS Yerkin Tukumov expressed: "The future of Asia will affect the world's future." Central Asian countries as key members of several important regional organizations including the Shanghai Cooperation Organization (SCO), Eurasian Economic Union (EAEU), and Organization of Turkic States (OTS), possess the potential to significantly contribute to global development and tackle regional challenges effectively.
This Forum also facilitated several bilateral meetings between different parties, further strengthening cooperation and collaboration. For instance, the director of KAZISS, Tukumov, and the President of the Emirates Policy Center, Ebtesam, met on July 14 and discussed cooperation between Kazakhstan and the United Arab Emirates (UAE). The leading think tanks of the two countries agreed to cooperate at the expert level and strengthen communication channels to exchange ideas and conduct joint research. In addition, KAZISS and the Institute of Strategic Studies of Mongolia signed a Memorandum of Cooperation, allowing closer collaboration between the two institutions, marking the 66th such memorandum signed by KAZISS in the last 30 years. Such strengthened ties between leading think tanks of different countries can secure the effective development of the region and set a solid foundation for bilateral cooperation.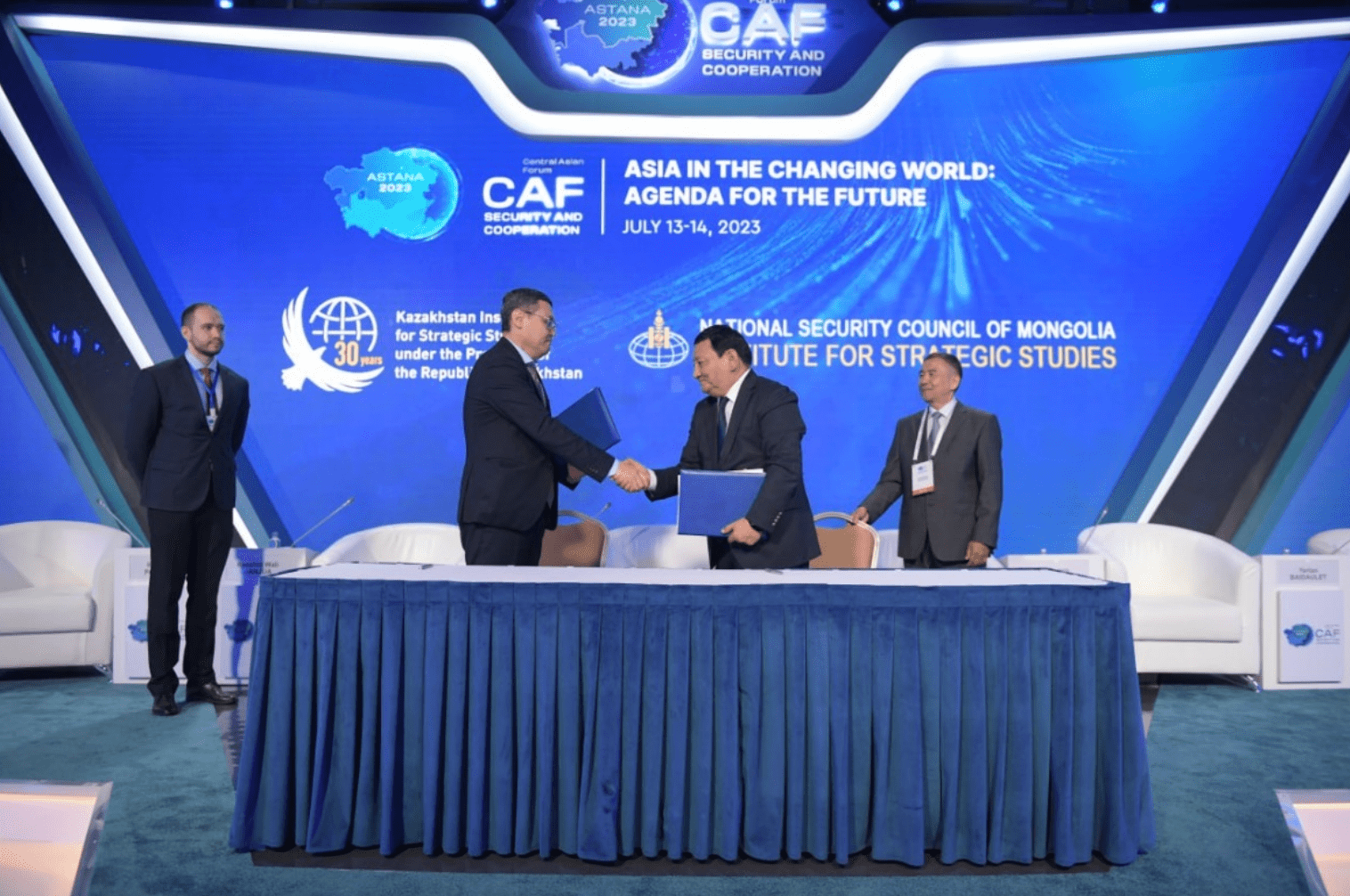 Source: Kazakhstan Institute for Strategic Studies
In addition to fostering alliances with other nations, the Forum highlighted the pressing need for stronger collaboration within the Central Asian region itself to resolve various conflicts. The speakers emphasized the importance of mutual trust and solidarity among the Central Asian states to consolidate regional cooperation. The criterion for this objective is the resolution of basic conflicts such as long-existing border disputes. Kazakhstan's successful resolution of border disputes with all neighboring countries can present itself as an exemplary source of support and inspiration for its fellow Central Asian states.
While geopolitical conflicts have generated economic opportunities for some Central Asian countries, it is essential to acknowledge the presence of instabilities and geopolitical rivalries that expose the region to a heightened risk of terrorism, particularly due to its proximity to Afghanistan's unstable conditions. At the Forum, the United Nations and European Union representatives reaffirmed their commitment to supporting Central Asia's counterterrorism measures and efforts against radicalization, extremism, and arms trafficking. Kazakhstan, for its part, has taken proactive roles in counterterrorism, providing humanitarian assistance to Afghanistan and repatriating citizens from conflict zones. Under the Secretary-General of the UN Counter-Terrorism Office, Vladimir Voronkov, Kazakhstan was recognized as the leading ally of the United Nations in terms of combating extremism and terrorism in Central Asia.
Beyond ensuring regional peace, Kazakh leaders also presented several initiatives for the future development of Central Asia, encompassing the elimination of nuclear weapons, the establishment of a United Nations Regional Hub to ensure stability, and the alleviation of the environmental risks in the Caspian Sea and Aral Sea. Kazakhstan's leadership in promoting multilateralism and sustainable strategies for the region has garnered international recognition. As the current chair of the SCO, Kazakhstan is well-positioned to take on a leadership role among Central Asian countries, exploring further initiatives and areas for development to guide the region toward a promising future.
Despite witnessing a series of positive changes, Central Asia is still struggling to find an effective way to balance success in economic progress, social policy, effective government, and civil society. It is essential to acknowledge that Kazakhstan, like many other Central Asian countries, remains dependent on fossil fuels. Therefore, a transition from a fossil fuel dependent economy is a longstanding challenge for Central Asia. To effectively address these challenges, the leaders emphasized the imperative of closer and more comprehensive regional cooperation, ensuring sustainable development. President Tokayev presented an optimal model for achieving this goal, comprising an effective public administration system, a competitive market economy, and a socially responsible and inclusive society.
Overall, the outcomes of the forum can be summarized into three pillars. First, geopolitical risks are key challenges in the region that require solidarity among Central Asia and strong regional cooperation to effectively resolve and mitigate the negative effects. Second, to realize regional cooperation, however, regional countries should also address internal issues such as border disputes and risks of terrorism. Kazakhstan, by its success in resolving its border conflicts and actively combating terrorism, can serve as a regional leader to ensure regional stability and development. Lastly, Central Asia must face its weakness in its ineffective governance and economy that needs structural reforms and economic diversification.
The Central Asian Security and Cooperation Forum 2023 marked a significant milestone in promoting regional cooperation and addressing critical challenges in Central Asia. With its commitment to sustainable development, counterterrorism measures, and strong leadership, Kazakhstan is poised to play a vital role in shaping the region's future. Through strengthened bilateral and multilateral ties, cooperation with international think tanks, and initiatives for a greener future, Central Asia has the potential to become a key player in the international arena and bring a brighter and more secure future in the ever-changing world.