2022 FDI in the Caspian Region
The geopolitical landscape has significantly shifted in the past year with Russia's war in Ukraine and the increasing importance of confirming alternative export states. And with reoriented trade portfolios, Foreign Direct Investments have been rearranged to complement new trade patterns and help upgrade soft and hard infrastructure in export economies in the Caspian Region.
Prior to this, Foreign Direct Investments (FDI) had globally been on a decline, largely due to concerns over inflation, the Covid-19 pandemic, and high debt sustainability issues in emerging economies. However, in 2022, the Caspian Region saw a significant bounce back in FDI, and some countries in Central Asia and the South Caucasus even saw record-setting investment levels. This is indicating a broadening global interest towards the Caspian Region's export-economies, confirming its role as an alternative to Russian exports.
Generally, we've seen several trends in Caspian Region FDI portfolios in the past year; Western investors increased their investments in the region, steadily increasing their investments each quarter; in 2022, Russia and China decreased their investments in the region, staying on par with their 2021 levels; Investments from China and Russia have reduced in size, focusing on smaller infrastructure projects, but generally staying committed to hard infrastructure projects, such as roads, bridges, and ports; Investors have maintained interest in traditional energy projects, but there has been an increase in investments in renewable and nuclear energy infrastructure; Kazakhstan has remained the largest receiver of FDIs in the region, and investors have signaled increased interest in the country; And, investors have indicated a continued interest in the region's energy infrastructures, but the consumer market and digital economy have also become critical priorities to investors in recent years.
In 2022, Armenia saw record- high FDIs into its economy. According to Armenia's Ministry of Economy's preliminary data, including quarters one, two, and three, show investments were up 36.2% year-on-year, from US$708 million in Q1-Q3 2021, to US$1 billion Q1-Q3 2022. In the first half of 2022, foreign investors announced a record 14 FDI projects in Armenia, representing a seven-fold increase in projects recorded over the same period of 2019, marking the highest percentage increase tracked worldwide. This is primarily because of Russia's increasing involvement in Armenia's economy; doubling investments in Armenia since the war broke out in Ukraine.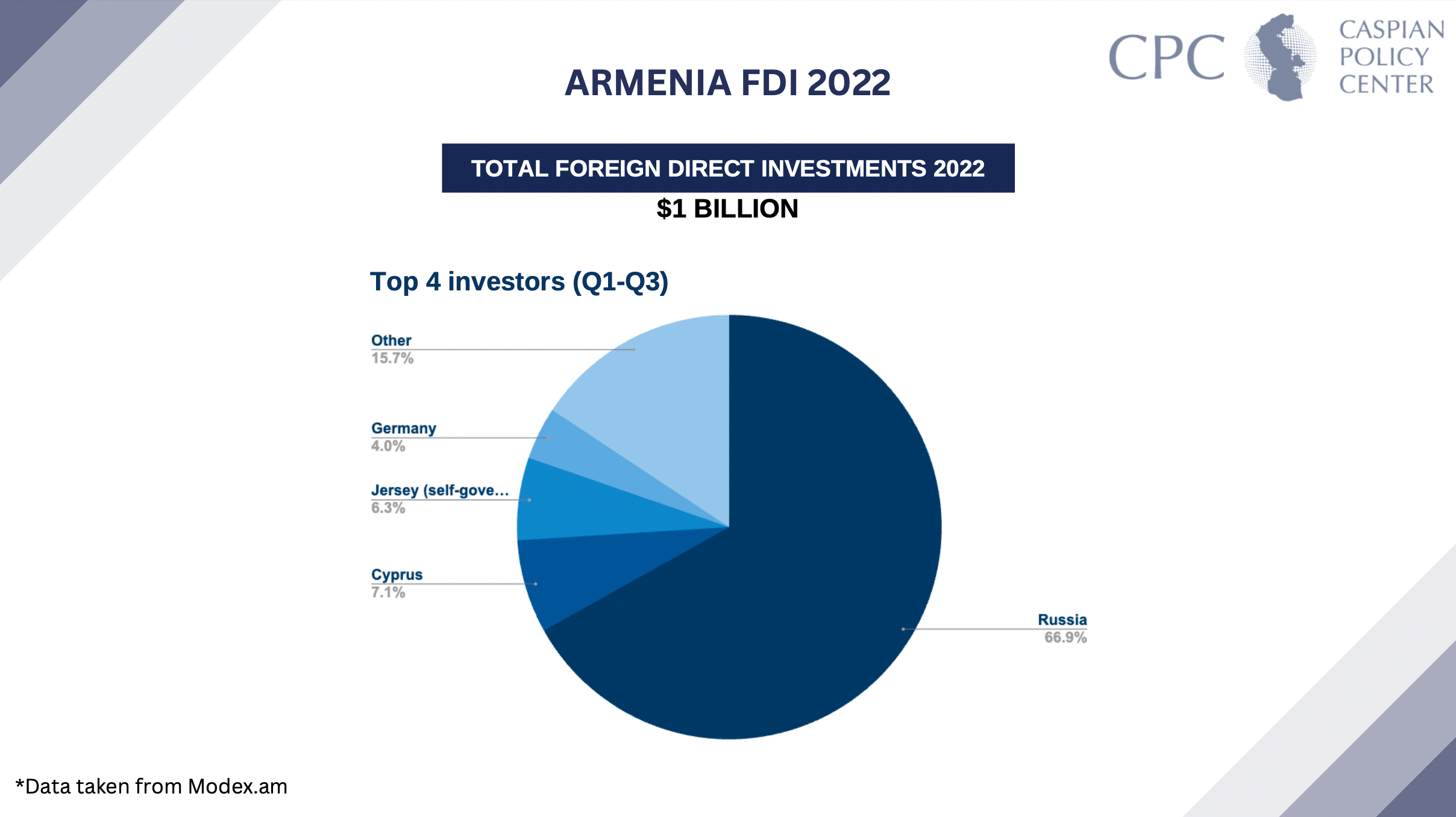 Armenia's ministry of Economy shows Russia as Armenia's top investor, providing 66.9% of Armenia's total FDIs in Q1-Q3 2022. During the same period, Cyprus provided 7.1% of Armenia's total FDIs, Jersey, a small self-governing dependency of the United Kingdom, provided 6.3% of total FDIs, leaving the remaining 15.6% of total FDIs to a list of other countries. Notably, Germany's share in Armenia's FDI inflows decreased from 17% in Q1-Q3 2021 to 4% in Q1-Q3 2022.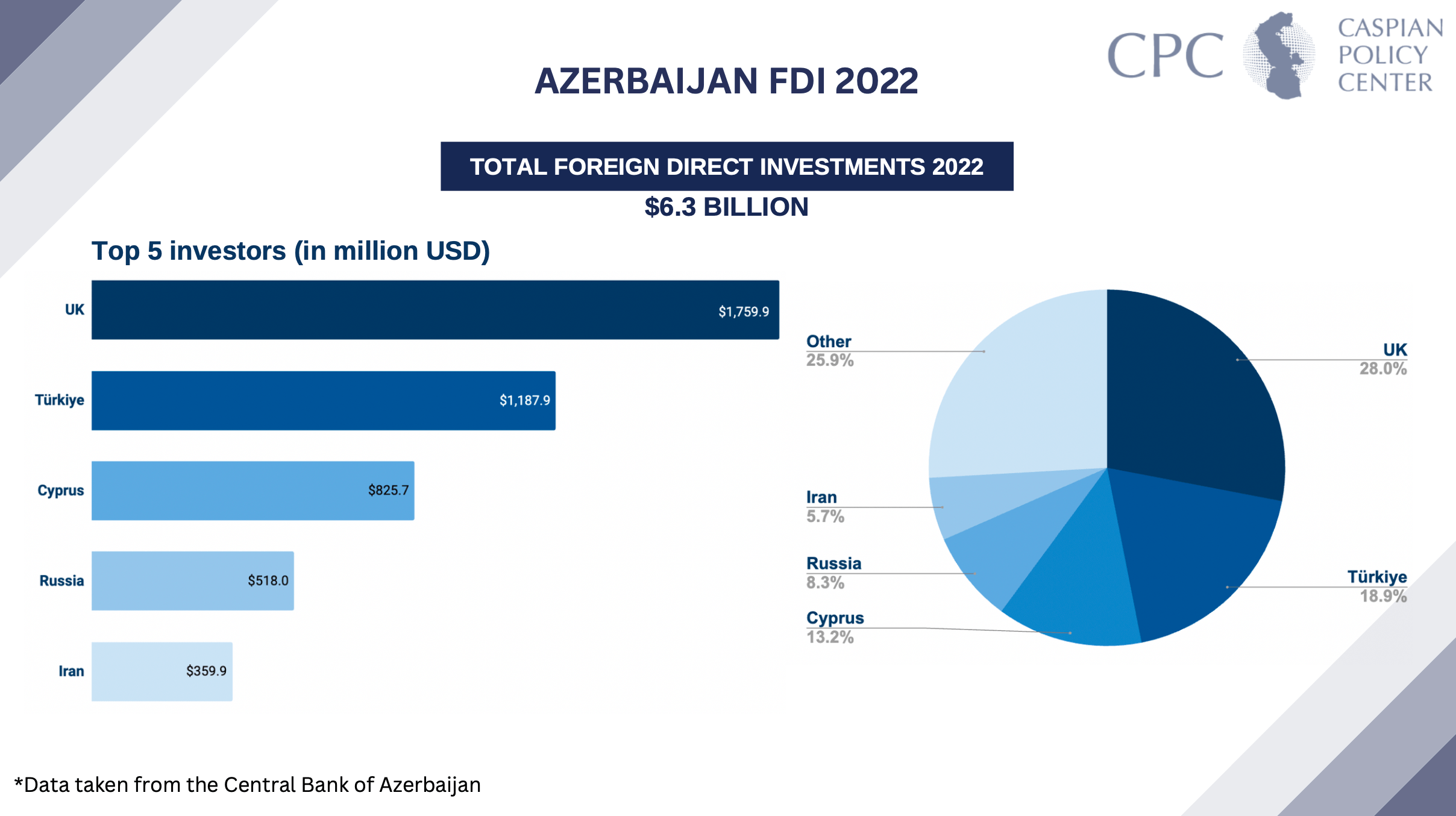 Azerbaijan also saw a major increase in FDIs in 2022 compared to 2021 data. According to Azerbaijan's Central Bank: Azerbaijan received US$4,795,271,000 from total FDI during Q1-Q4 in 2021. In 2022, this increased to an annual total of US$6,275,850,000. Azerbaijan's leading investors in 2022 were; the United Kingdom at US$1,759,946,000, Türkiye at US$1,187,946,000, Cyprus at US$825,715,000, Russia at US$517,960,000, and Iran at US$359,871,000.
To compare year-on-year change, the United Kingdom increased its FDI in Azerbaijan from 2021 to 2022 by 10.9%. Türkiye increased is FDIs in Azerbaijan by 60% from 2021 to 2022. Cyprus increased its FDIs in Azerbaijan by 159% from 2021 to 2022. Iran increased its FDIs in Azerbaijan from 2021 to 2022 by 33.9%.
Focusing on FDIs from the European Union (EU), five flagship investment projects have been indicated; The Port of Baku as a sustainable hub for the movement of goods and services; The digitalization of transport corridors in Azerbaijan; The support for the market competitiveness of 25,000 startups and SMEs; the advancement of rural development and economic growth in the region; And sustainable infrastructure and solutions for smarter and greener cities.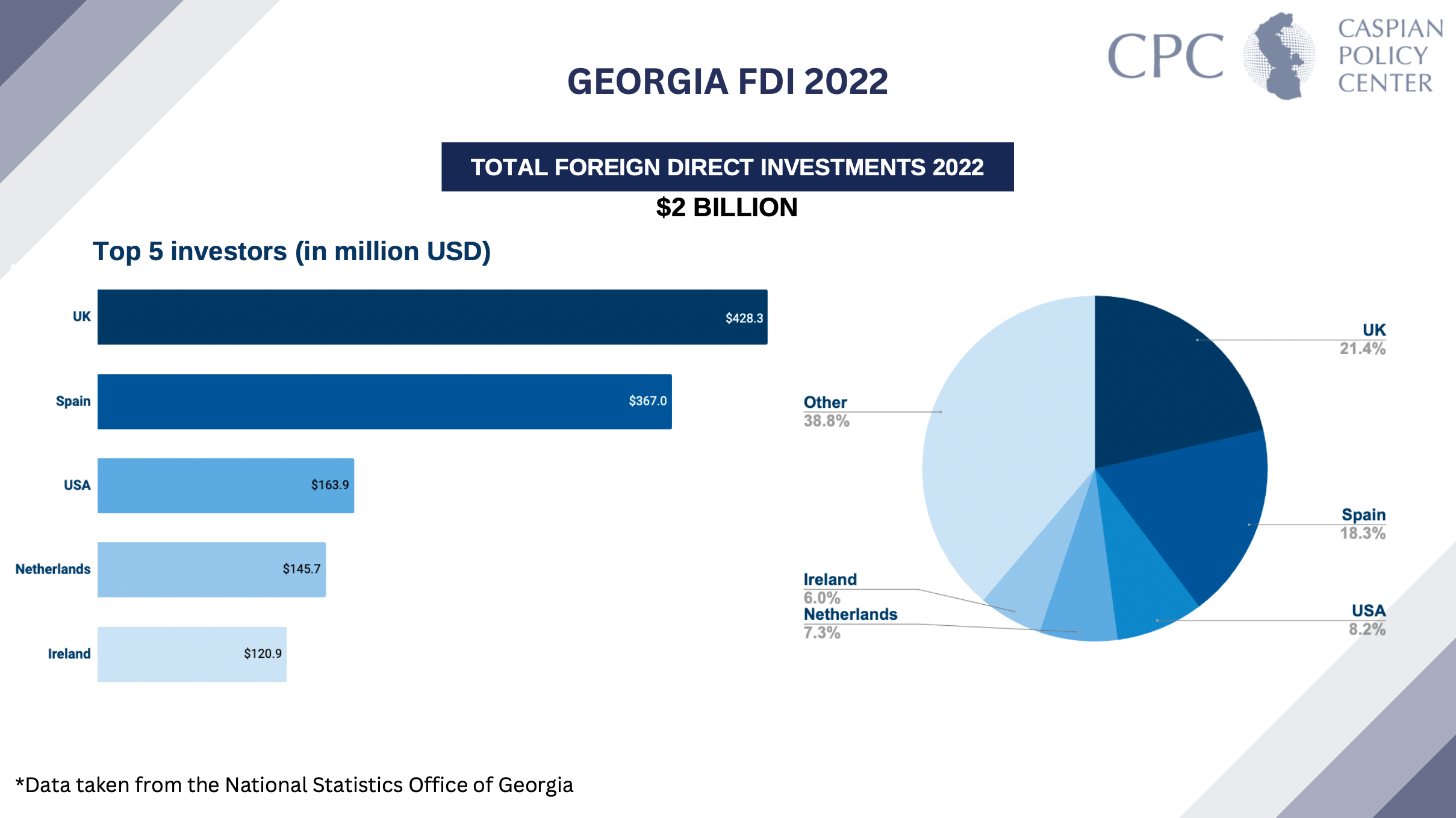 In 2022, Georgia's FDI amounted to US$2 billion, a 61.1% increase compared to last year's US$1.241 billion. Georgia's top direct investor countries were the United Kingdom ($428.3 million), Spain ($367 million), United States ($163.9 million), Netherlands ($145.7 million), Ireland ($120.9 million), China ($108.5 million), Türkiye ($106.5 million), Czech Republic ($86.4 million), Russia ($71 million), and Japan ($68.7 million). The financial and insurance activities sector received the largest share of the FDI with $526.4 million, followed by the real estate sector ($406.9 million), the water supply and sewerage sector ($197 million), the arts, entertainment, and recreation sector ($173.1 million), and Energy ($149.1 Million).
When comparing 2022's 4 quarters, the UK increased its investments drastically from US$88.4 million in Q1, US$64.2 million in Q2, US$122.1 in Q3, to US$153.6 in Q4; The US increased investments from US$32.3 million in Q1, US$6.4 million in Q2, US$64.6 in Q3, to US$60.5 million in Q4; Russia increased from $10.6 million in Q2, US$36.6 in Q3, to US$34.7 million in Q4; And, China had $36.6 million in investment in Q1, US$30.7 million in Q2, decreasing to US$7.2 million in Q3, and back up to US$34 million in Q4.
Transit and logistics are priority sectors for Georgia's investors as there is great potential benefit from increased East/West trade through the country. The Baku-Tbilisi-Kars railroad has boosted Georgia's transit prospects and the government has looked for ways to enhance trade.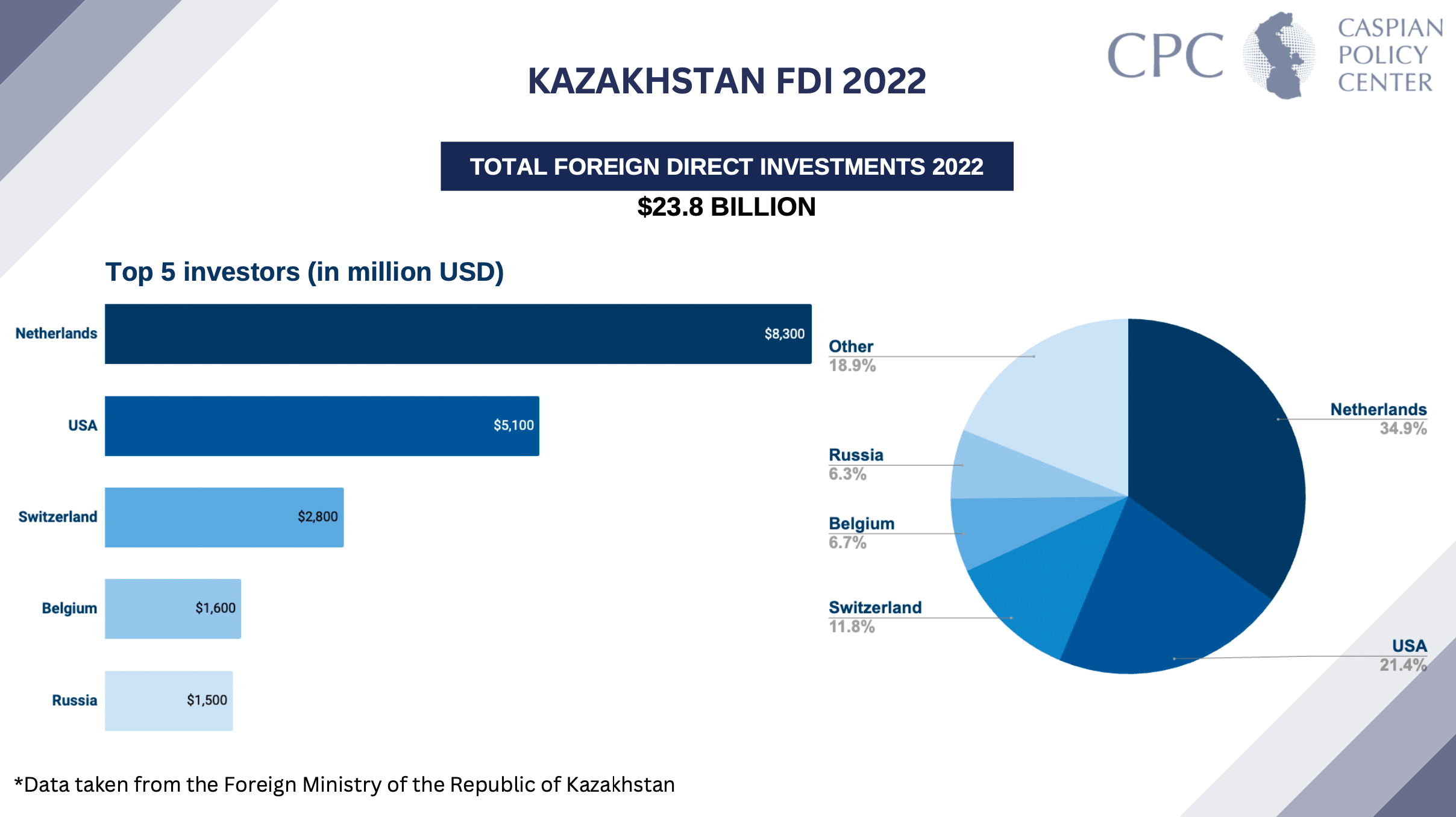 According to the Foreign Ministry of the Republic of Kazakhstan, the gross inflow of foreign direct investment (FDI) into Kazakhstan increased by 17.8 percent and reached US$23.8 billion in 2022. The top investing countries in Kazakhstan are the Netherlands with US$8.3 billion, the United States with US$5.1 billion, Switzerland with US$2.8 billion, Belgium with US$1.6 billion, Russia and South Korea with US$1.5 billion each, and China with US$1.4 billion.
In the first nine months of 2022, the inflow of European investments increased by 10 percent and exceeded US$8 billion. The EU accounts for approximately 30 percent of Kazakhstan's foreign trade.
The largest inflows were directed in such sectors as mining – US$12.1 billion, which saw a 25 percent increase from 2021 to 2022, manufacturing – US$5.6 billion, a 2.7% from 2021 to 2022, wholesale and retail trade reached US$5.1 billion, a 36% increase from 2021 to 2022, professional, scientific, and technical activities reached US$1.2 billion, a 220% increase from 2021 to 2022, and transport and warehousing at US$1.2 billion, a 13.5% increase from 2021 to 2022.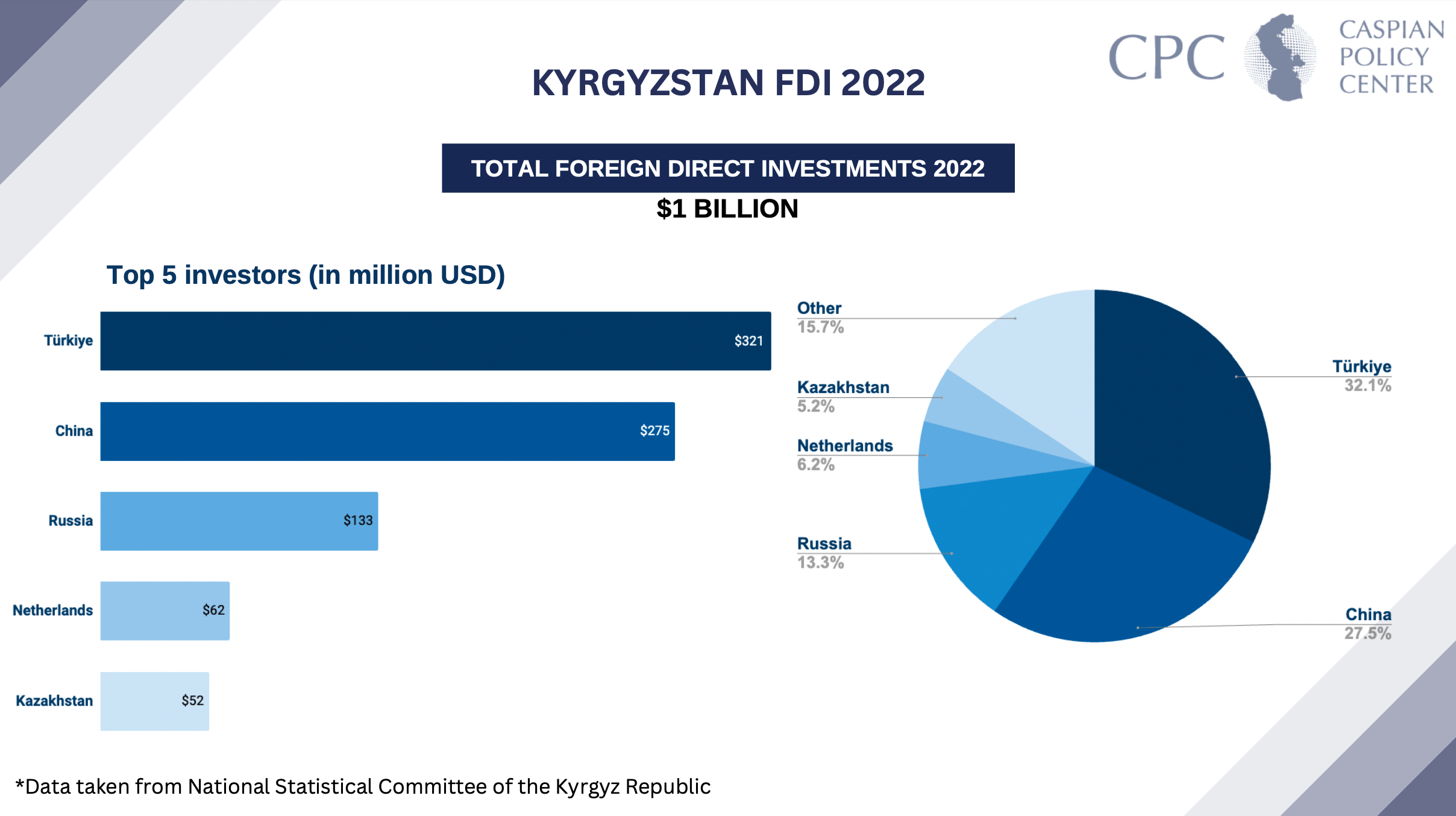 Although data is preliminary, according to the National Statistical Committee of the Kyrgyz Republic, there was an estimated 104% increase in Kyrgyzstan's FDI from 2021, reaching US$1 billion in Q1-Q4 2022. The minerals mining sector received the largest share of the FDI with US$431 million, followed by the manufacturing and processing sector (US$335 million). Kyrgyzstan's top director investor countries were Türkiye (US$321 million), China (US$275 million), Russia (US$133 million), Netherlands (US$62 million), Kazakhstan (US$52 million), the United Kingdom (US$29 million), Cyprus (US$28 million), and Germany (US$28 million). By region, FDI is mainly concentrated in the Jalal-Abad Region, Chuy Region, Talas Region, as well as in the capital city Bishkek.
According to the Ministry of Economy of the Republic of Uzbekistan, Uzbekistan received US$3.3 billion in FDI in 2022, a 38% increase from US$2.04 billion in 2021.
In 2022, the following major investment projects, funded by FDIs, were implemented; The construction of a new power plant with a capacity of 1500 MW in Syrdarya region; The construction of a gas piston power plant with a capacity of 220 MW in Syrdarya region; A program to increase hydrocarbon production for 2017-2021; A program for modernizing and improving the efficiency of the main gas transmission system of the republic for 2021-2022; The construction of a solar photovoltaic power plant with a capacity of 100 MW in Nurabad district of the Samarkand region; The construction of a gas piston power plant (GPES) with a capacity of 270 MW in Bukhara region; The development of the 25 Years of Independence field, construction of a gas chemical complex; And, creation of a complex for the production of mineral fertilizers.
Uzbekistan's FDIs traditionally arrive from Russia, South Korea, China and Germany, but Canada recently increased its financial presence. Investments focus on the energy sector, including alternative/renewable energy in recent years.
Region-wide, there have been several emerging trends in investment strategies. According to the EY Attractiveness Survey for Central Asia, conducted in 2022, 42% of investors surveyed have indicated that the current geopolitical situation has, generally, not altered their investment strategy. 28% of respondents saw the geopolitical shift as an opportunity to increase investments to establish or improve operations. And only 16% have indicated plans to reduce regional investments. Most of these investors indicated interest in projects focused on supply chain and logistics, followed by sales and marketing offices, and then research and development. Further, in the next three years, responding investors said these industries will pick up more investments; 1) energy and utilities; 2) consumer industries, including agriculture; 3) Digital economy.
Historically, the region has attracted significant investments into its oil and gas industries; however, there is an emerging interest in cleaner energy resources. Given the region's potential in wind, solar, and hydro energy, one-fourth of survey responders signaled interest in renewable energy infrastructure.
As climate change has become a significant concern around the world, and in the Caspian region, there is great potential to cooperate with regional actors on the development of the renewable energy sectors. The Caspian Region is prone to natural disasters, such as earthquakes, floods, draughts, and mudslides, making regional governments more responsive to investments in renewable infrastructure. Further, with the highest per-capita carbon footprints in the world- Kyrgyzstan's capital Bishkek named as one of the most polluted cities globally- it is not only profitable, but it is necessary for the region to expand its green energy infrastructure and reduce its reliance on emission-intensive economic growth.
Caspian Region governments have officially announced ambitious net-zero carbon emission targets, strategized renewable energy project plans, encouraged investments into green energy developments, promoted sustainable agriculture, and produced plans for cleaner public infrastructure. In fact, Kazakhstan became the first country in Central Asia to establish an emission trading scheme, making it one of the most promising renewables markets in the Caspian region. However, without an uptick in renewable energy infrastructure, it will not be possible for these states to reach their carbon emission targets, and their economies will risk falling behind in the energy transition.