South Caucasus COVID-19 Update
The COVID-19 pandemic remains far from over in the South Caucasus, but the situation varies providing a basis for concern as well as hope. Each country is far below the seven day average peaks they hit at the height of the pandemic, but both Armenia's and Georgia's seven day average for new cases is higher than a month ago, and Azerbaijan's is rising from what was its lowest point in mid-June.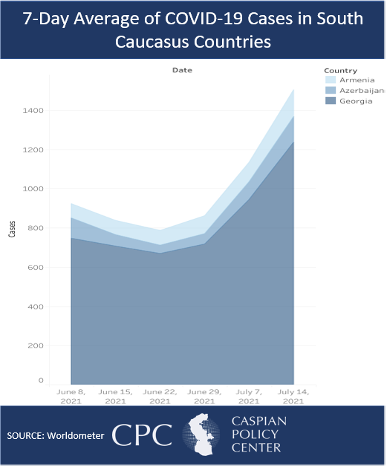 The Center for Disease Control placed Georgia in Level 4, i.e., very high risk for COVID-19, with the recommendation of avoiding all possible travel there. Researchers have found the highly infectious Delta Variant in Georgia and Azerbaijan. Despite the Delta Variant's presence in Azerbaijan, the CDC named it and Armenia as countries of low andmoderate concern for COVID-19, respectively, and the EU also added Armenia and Azerbaijan to its list of epidemiologically safe countries on July 1. Both countries have very low rates of positives tests.
Vaccination rollout campaigns continue to differ by state. After some initial public hesitancy, Azerbaijan is doing relatively well with almost 24 percent of its population having received at least one shot. The country started its vaccine drive earlier than its neighbors and claims to have enough vaccines for its citizens. Both Azerbaijan and Armenia are starting to ease COVID restrictions such as mask mandates for fully vaccinated citizens, and Azerbaijan is using "vaccine passports" for entry into social and recreational establishments.
In Armenia, the government seems to have more vaccines than people willing to receive the shot. Less than 3 percent of the population has received one shot, but despite this low vaccination rate the government allows anyone, including foreigners, to register for a vaccine. Skepticism towards the AstraZeneca vaccine specifically remains high, which hinders vaccination efforts since AstraZeneca shots make up about a quarter of Armenia's vaccine supply. Iranians have flocked to Armenia to get a vaccine because many still cannot get one in Iran. Armenia, however, is reportedly tightening the rules for foreigners looking to receive vaccines, but the vaccines will remain free for all citizens and foreigners eligible. Armenia requires all people entering the country to present a negative PCR test. However, due to the very low vaccination rates in Armenia and the prevalence of the Delta Variant in Iran and Russia, there is reason to worry that the variant will appear and spread in Armenia too.
Georgia similarly eased its mask requirements and removing its 11pm-4am curfew in late June and early July, but instances of COVID are much worse than its neighbors. Armenia and Azerbaijan registered 1,630 and 1,449 cases (.05 and .01 percent of their total populations) in the past two weeks respectively, while Georgia registered 14,606 cases (or .4 percent of the total population). Meanwhile, only a potential 3.9% of the population is vaccinated, and the majority of that subset received Chinese vaccines which reportedly have a lower efficacy rate and a higher price tag than alternatives. Worryingly, at the current vaccination rate, it would take 307 more days to see a 10% increase to the vaccinated public. This situation might stem from skepticism towards the Chinese vaccines, which are the most readily available, and to a general lack of vaccines. There are currently over 13,000 active cases in Georgia, and on July 13 alone, over 1,100 new cases were registered in Tbilisi. Still, Georgia is doing better than in early December when the country averaged over 4,300 new cases a day. However, , with the region opening up and the presence of more contagious variants, Georgia might be forced to reassess its easing of restrictions.
Throughout the region, distrust in specific vaccines – chiefly Chinese vaccines in Georgia and AstraZeneca in Armenia – has slowed down vaccination efforts right when such programs should speed up. The international community's efforts have been underwhelming in the South Caucasus. COVAX has delivered fewer than 100,000 AstraZeneca vaccines to Armenia, Azerbaijan, and Georgia each. While both Armenia and Georgia received offers for some Pfizer vaccines, Armenia rejected them because the country does not have the necessary cold storage infrastructure. Georgia has yet to see any Pfizer vaccines through the program. In addition, when assisting South Caucasus countries in their vaccine drives, the World Health Organization and other public health organizations cannot forget that many in the region remain unconvinced of the efficacy or safety of certain vaccines.
Logistical and informational challenges have slowed down the countries' COVID-19 responses but concerted preventative efforts to increase vaccine shipments and combat misinformation might avert the worst of another wave.
Image Source: BMEI/Gruber.