Caspian Policy Center Hosts the 1st Caspian Connectivity Conference in London, U.K.
LONDON – TODAY, the Caspian Policy Center (CPC) brought together policy, government, and business leaders from the U.K, U.S., and Caspian corridor countries in London to discuss connectivity, energy, and economy in the Caspian region.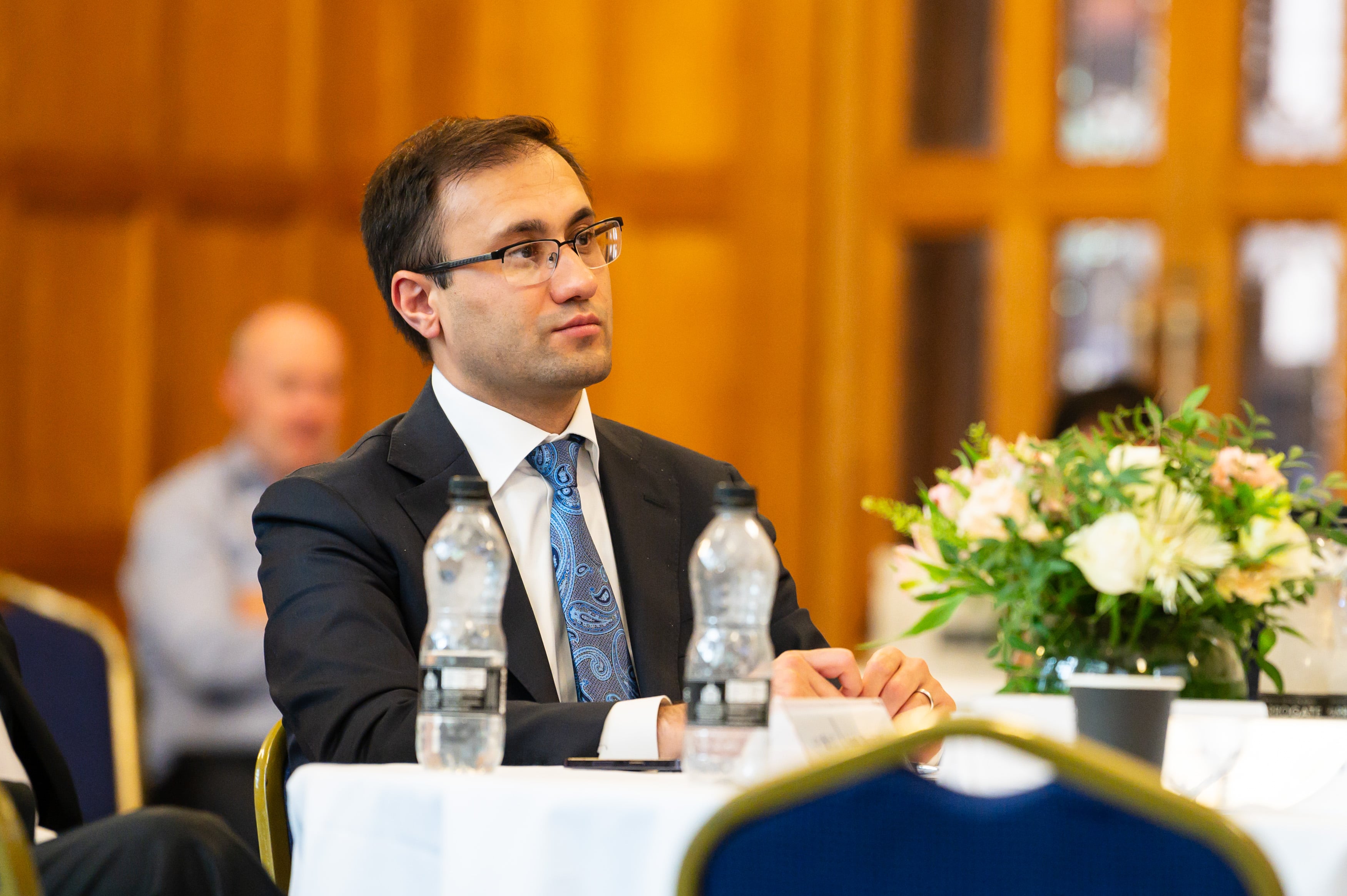 Efgan Nifti, CEO of CPC, opened the event with welcome remarks and mentioned U.K.'s strategic importance for the further development and strengthening of the Caspian region.
"The Caspian region holds strategic significance for the U.K. due to several key factors. U.K.'s interests in the region have been repeatedly outlined as strengthening the independence and prosperity of the new Caspian states, bolstering regional cooperation, enhancing global energy security through the free flow of Caspian oil and gas to world markets, and increasing investment opportunities for companies from the U.K. and other countries," Mr. Nifti said.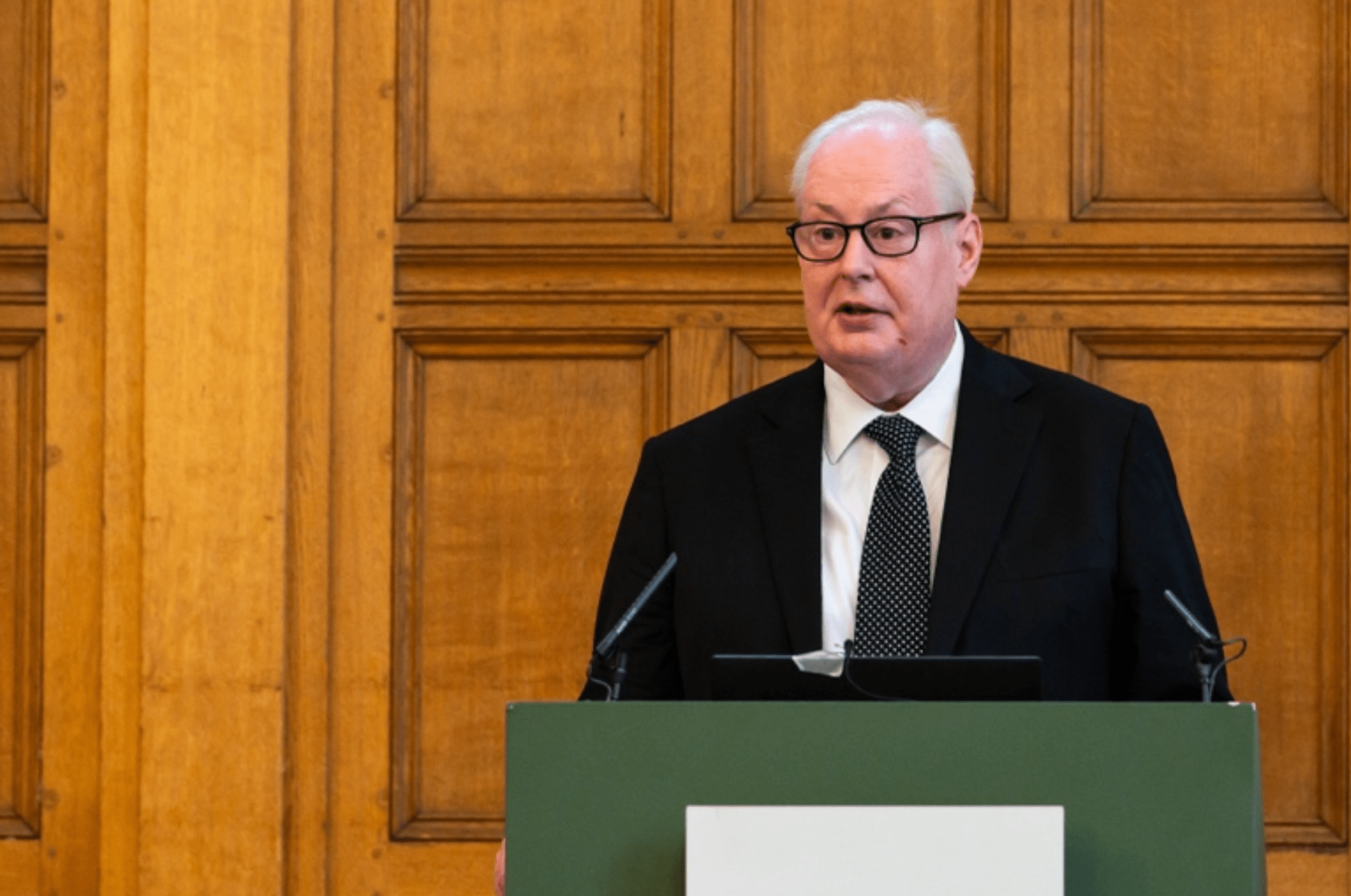 Ambassador David Moran, U.K. Regional Energy Security and Climate Ambassador for Europe and Central Asia for the Foreign, Commonwealth, and Development Office (FCDO), shared his insights on the U.K.'s general aspirations in the Caspian Region.
"As we work to diversify the ability to use energy as a coercive tool, the U.K. strongly supports the development of a Middle Corridor, diversifying energy supplies to the European market, and increasing commercial access to the Caspian Region. We're actively working to bolster energy infrastructure and boost capacity in the region, and our partnerships have never been so important," Ambassador Moran stated in his keynote remarks.
Aside from energy diversification, Ambassador Moran further emphasized the importance of ventures contributing toward connectivity in the region.
"We're proud of the transformative role that British companies are playing in this transition as we develop regional connectivity, cooperation, and collaboration. While investment in connectivity is probably a new idea, it has long been building momentum. Recently, Glasgow saw the launch of the Green Grids Initiative which was itself a project of discussions between leaders across continents," he added.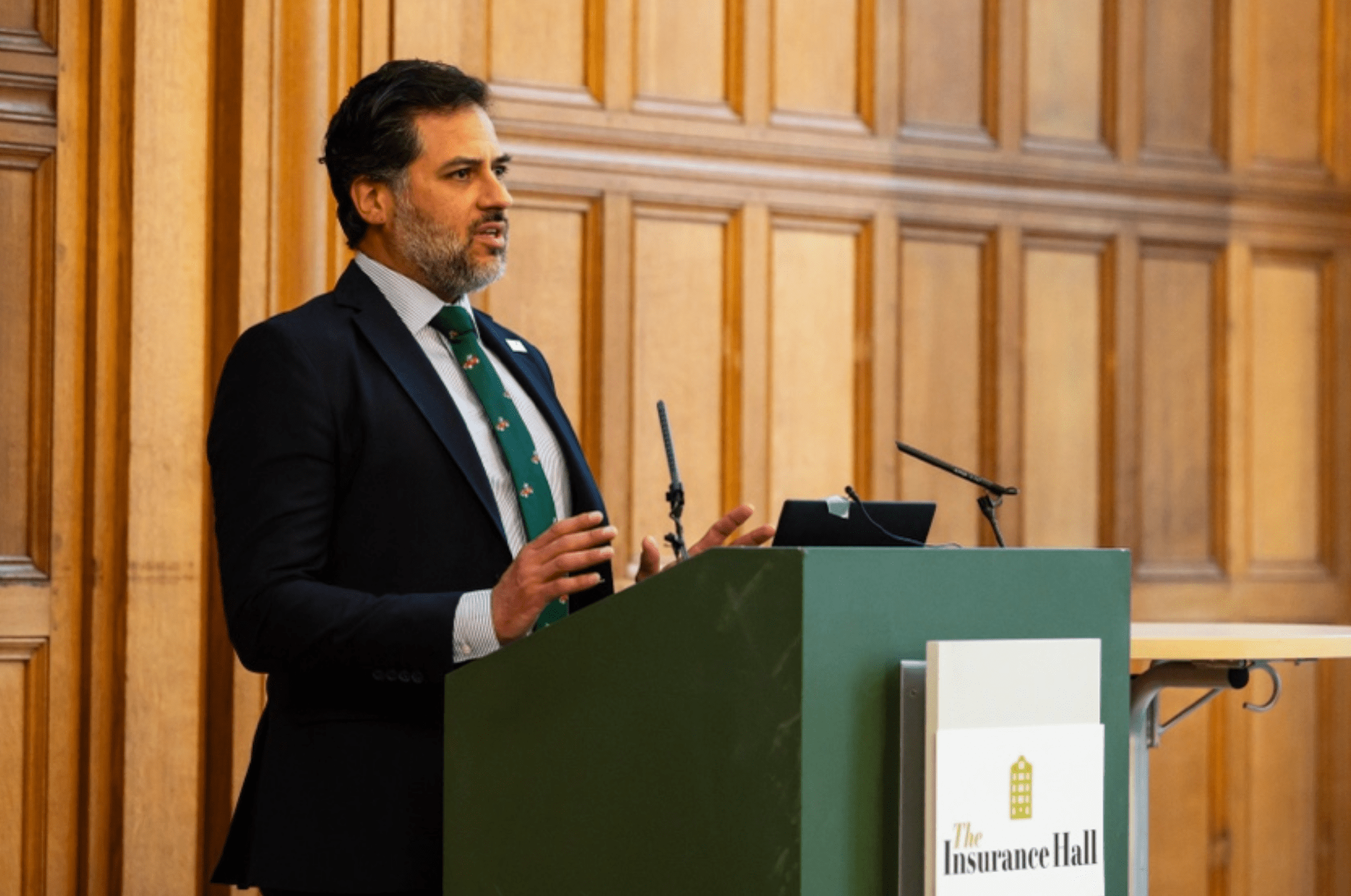 Joshua Volz, Deputy Assistant Secretary for Europe, Eurasia, Africa, and the Middle East for the U.S. Department of Energy, spoke about the U.S. perspective in engagement in the Caspian Region, especially through the ongoing energy crisis.
"We find ourselves at a point in history that is a bit of a Gordian Knot when it comes to international relations and the energy landscape. There is a trilemma that we are facing collectively when it comes to the energy landscape with three important pillars, none of which should be disaggregated from each other. One is the ability for our countries and our communities to afford energy. The second is our ability to diversify those energy resources and provide energy security. And the third is the global challenge that we face in terms of climate change and reaching our net zero aspirations," Mr. Volz shared.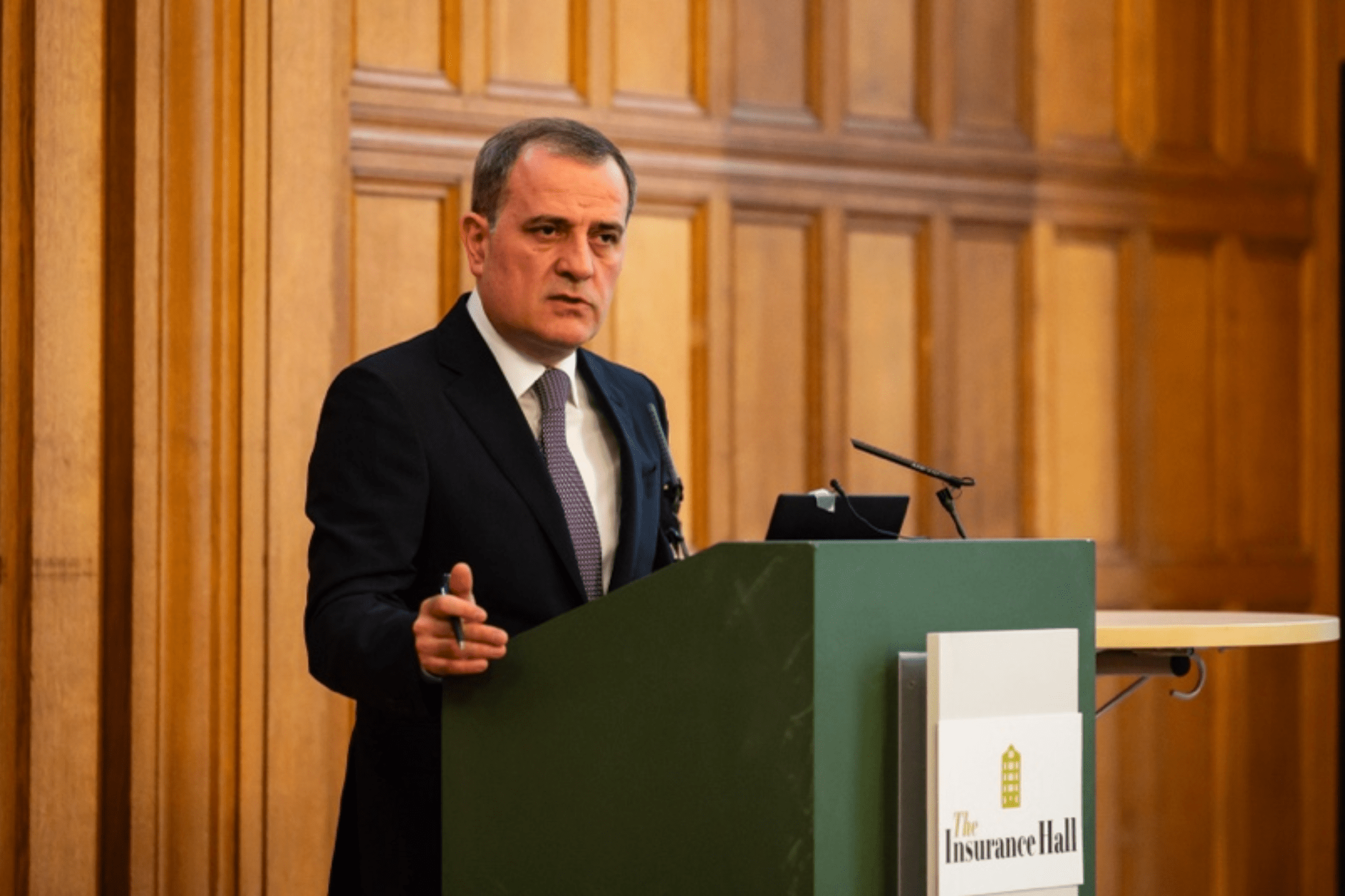 Jeyhun Bayramov, Minister of Foreign Affairs of Azerbaijan, shared his insights on Azerbaijan's role in facilitating greater regional connectivity.
"Against the backdrop of regional geopolitical situation, transportation routes from Central Asia through the Caspian Sea and further through the Caucasus are becoming particularly relevant. Corridors and routes passing through Azerbaijan offer competitive advantages for the transport operators and businesses. Azerbaijan has heavily invested in diversification and modernization of its transport infrastructure and promoted several transport infrastructure projects to reinforce trade and logistic between Europe and Asia," Mr. Bayramov said.
Mr. Bayramov also discussed Azerbaijan's role in the ongoing issues emanating from the global energy crisis.
"Even considering accelerated energy transition, one cannot simply abandon the fossil fuels or investments in those traditional sectors at once. The processes needs to be balanced with due consideration to economic linkages and respective capabilities. Today, the Southern Gas Corridor contributes to the security of supply and market competition – two unchanged pillars of the European energy policy," the Minister added.
At the end of his speech, Mr. Bayramov emphasized recent developments in the field of energy with an increased focus on Caspian-EU cooperation.
"We have also recently signed gas supply agreements with Romania and Hungary," he said emphasizing that nearly half of Azerbaijan's natural gas exports went to Europe.
Ambassadors from Kazakhstan, Kyrgyzstan, Uzbekistan, and Türkiye delivered their remarks during the ambassadorial panel.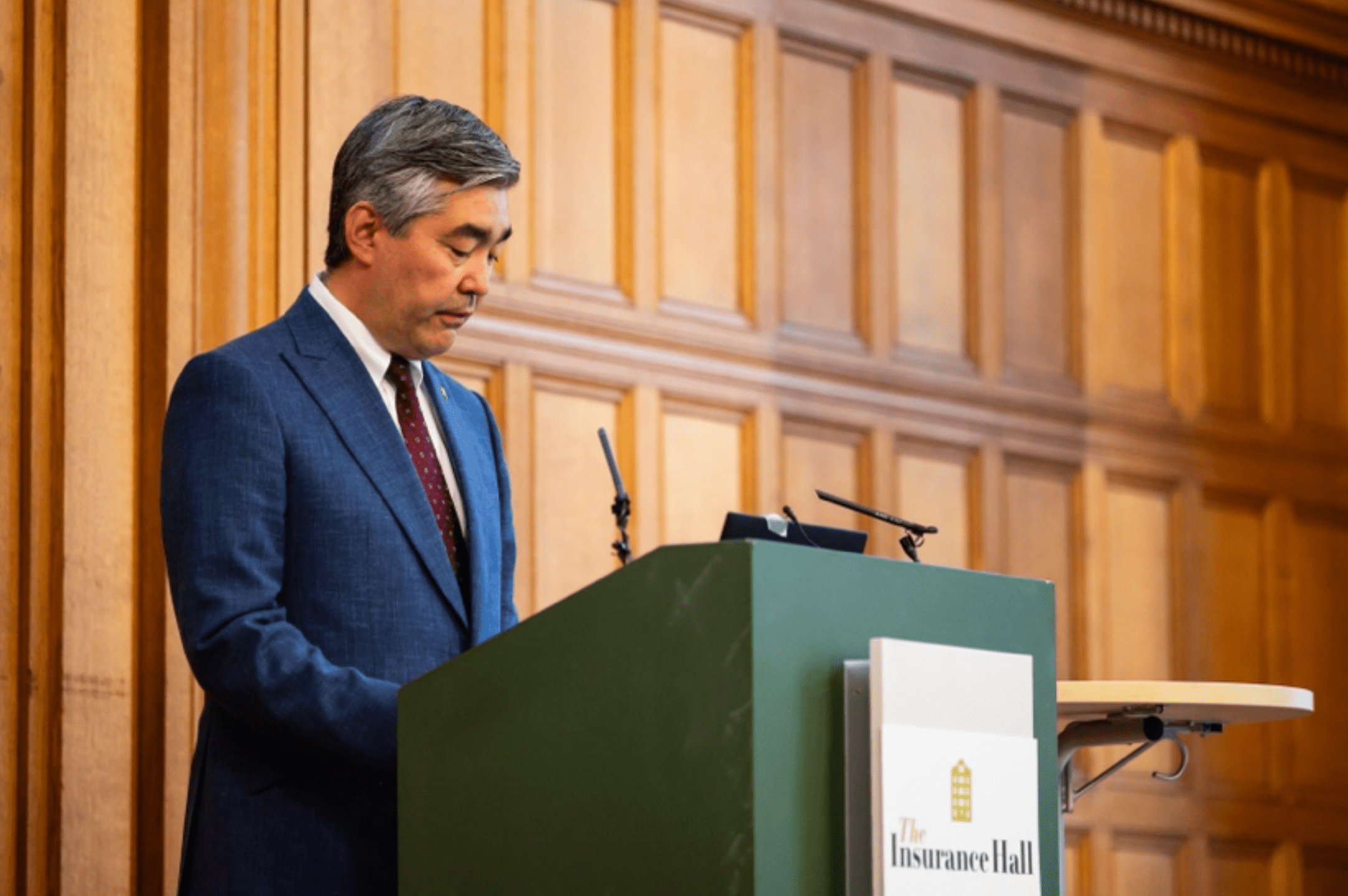 Magzhan Ilyassov, Ambassador of Kazakhstan to the U.K., shared remarks on regional needs and how Kazakhstan can address them.
"The International community now faces increased polarization. The rupture of established transport and logistics suppliers has seriously impacted the region's economy and its foreign trade and transit potential. Therefore, the Caspian Corridor can serve as a solution and as a long-awaited opportunity for Central Asian countries to expand economic and trade borders," Ambassador Ilyassov said.
Ambassador also emphasized Kazakhstan's vast resources in addition to energy materials.
"Excluding oil and gas, Kazakhstan exports more than 60 precious and non-ferrous metals for exploration and development. Kazakhstan makes a significant contribution in ensuring regional and international food security. We're the world's top 10 exporter of grain with an annual supply of over five million tons of wheat and one and a half million tons of flour today. Kazakhstan will also become one of the world's leading producers of flaxseed," he said.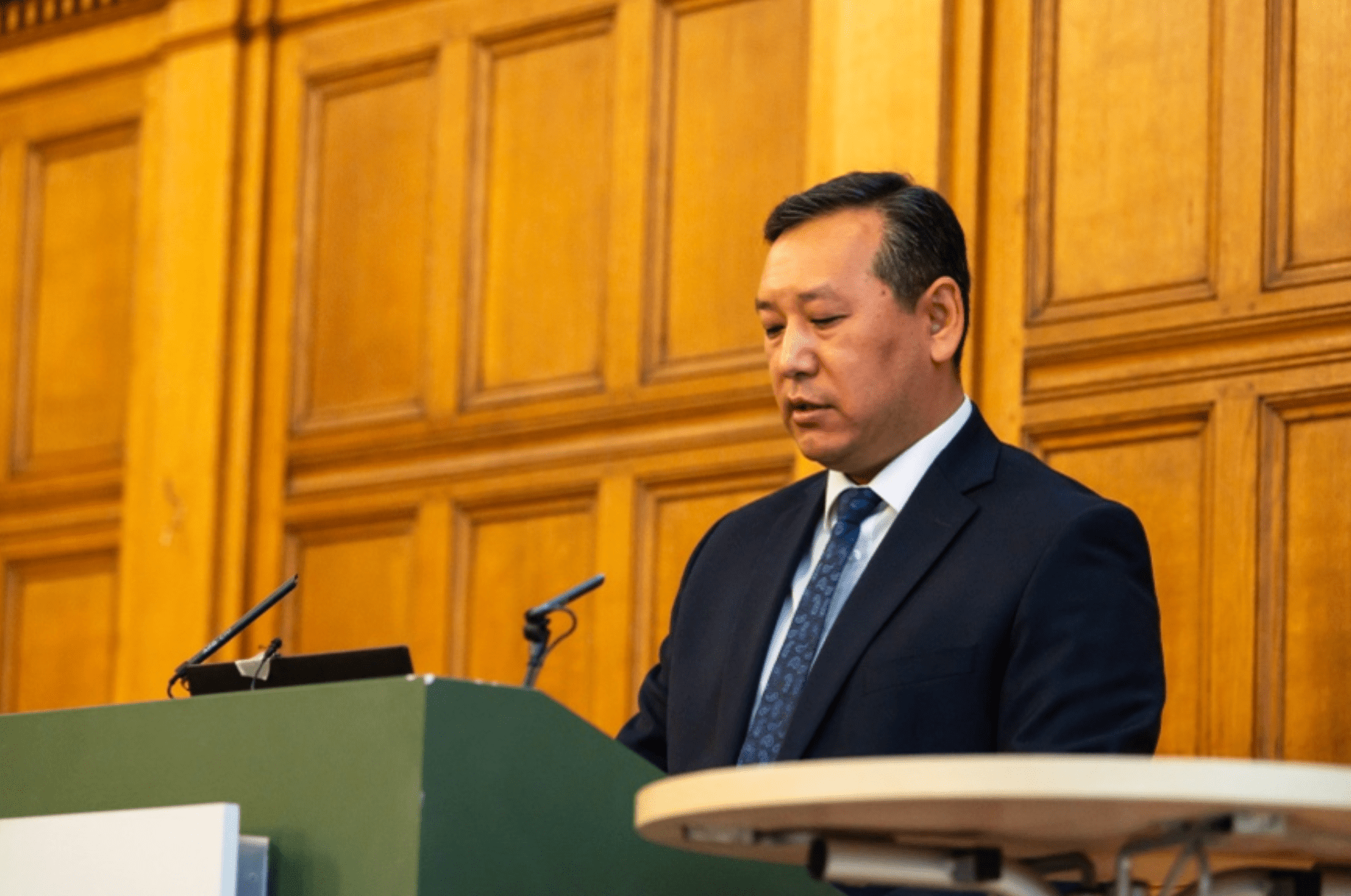 Ulan Djusupov, Ambassador of the Kyrgyz Republic to the United Kingdom, discussed the ways countries of the Caspian region can work together to achieve shared goals.
"We have much in common in traditions and customs in the region. Much brings us together in terms of similarities in mentality and psychology. I will call this our common asset and a very important competitive advantage. Therefore, we are rapidly moving toward understanding that our region can be born as a single geopolitical space in which all forms of economic cooperation and interaction can be successful," Ambassador Djusupov said.
Ambassador Djusupov also emphasized Kyrgyzstan's vast hydropower energy resources.
"I would like to draw your attention to the fact that all energy produced in Kyrgyzstan is green as it comes from hydropower, " he added.
"The Kyrgyz Republic is ready to work hand in hand with its partners in the region, as well as Europe and America, to address common issues and develop a dialogue."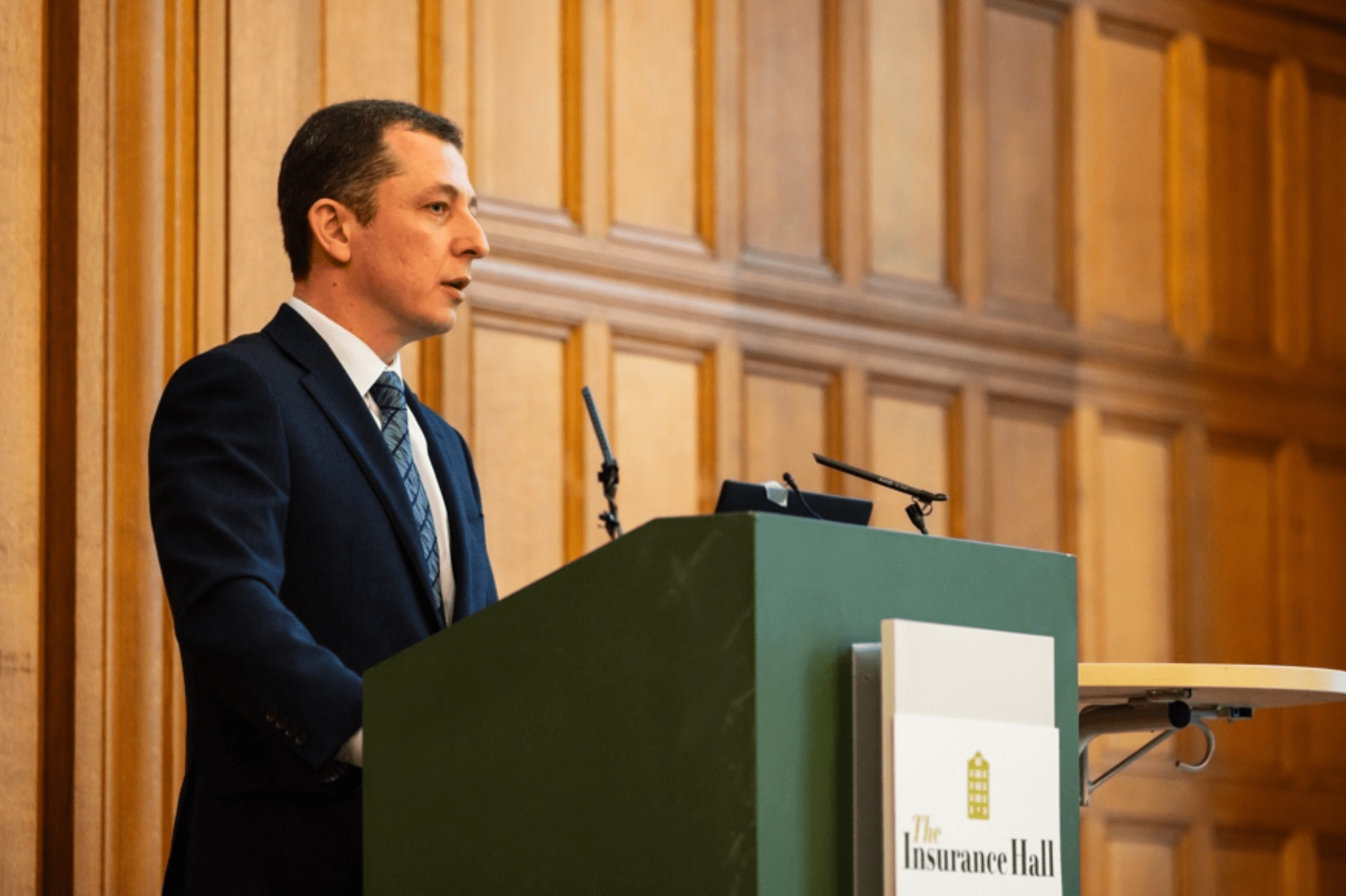 Said Rustamov, Ambassador of Uzbekistan to the United Kingdom, highlighted Uzbekistan's unique role in the region and its potential in terms of Western and regional engagement.
"My country today is persistently emerging as a Central Asian powerhouse with strong economic growth," Ambassador Rustamov shared about Uzbekistan's progress as a nation.
"We see that Central Asia is becoming a more consolidated and united region, which makes it more critical to Western and European countries," he added.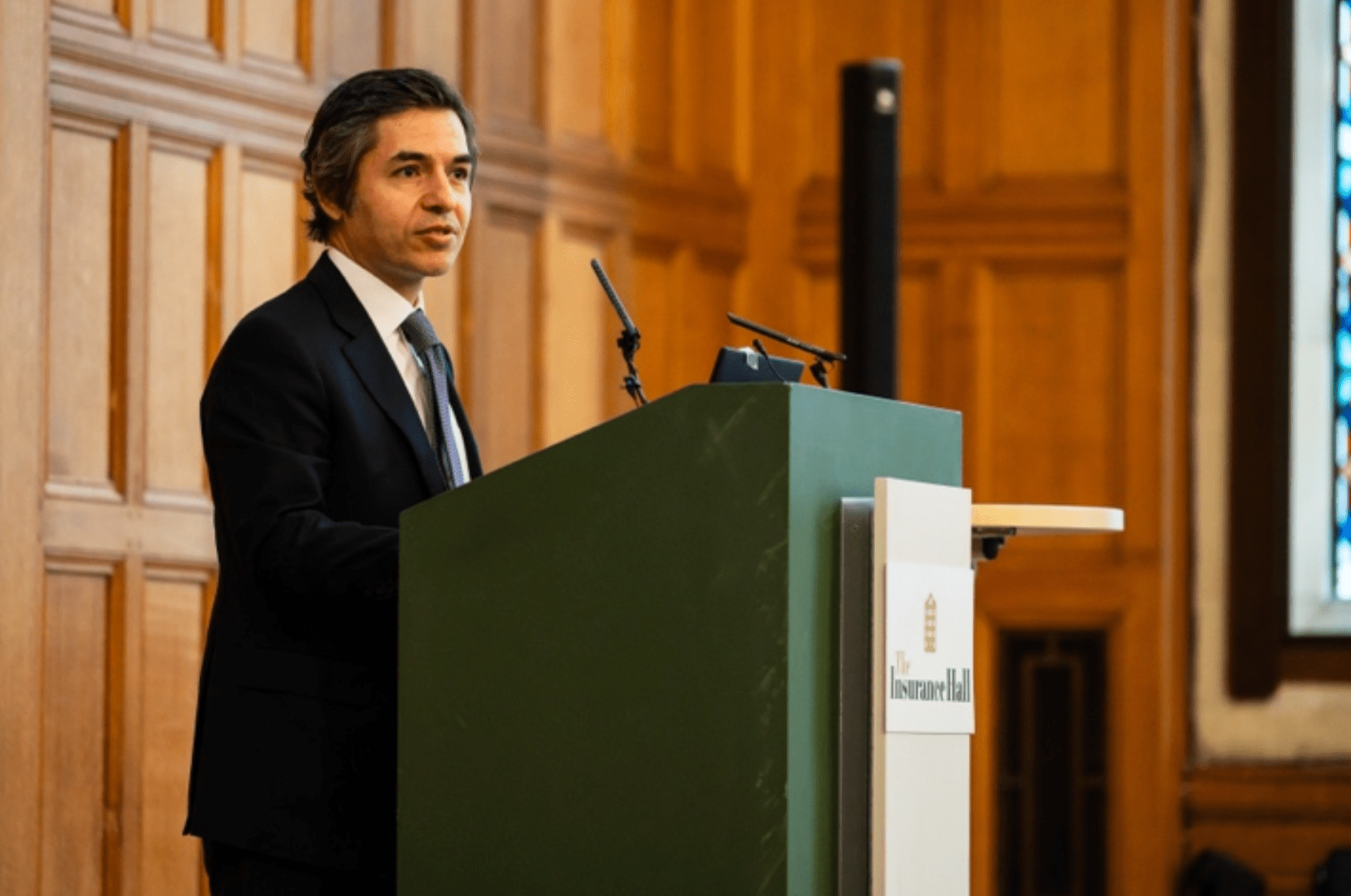 Osman Koray Ertaş, Ambassador of Türkiye to the U.K., focused on Türkiye's strategic engagement with the countries of the Caspian region and the West's potential for further engagement in the region in his remarks.
"When we say connectivity, it is not only vital for the region and for ourselves, but it is also vital for Europe. The most important thing is that we have international cooperation, and we need our western partners to be involved in it," he said.
Ambassador Ertaş also covered Türkiye's strong levels of economic cooperation with countries in the Caspian region.
"We have covered a lot of ground in the last 2-3 decades both bilaterally and regionally with these countries. Our trade with Kazakhstan is more than eight billion, with Azerbaijan is six billion, with Uzbekistan is four billion, with Georgia is three billion, and with Turkmenistan and Kyrgyzstan is each one billion each," Ambassador Ertaş added.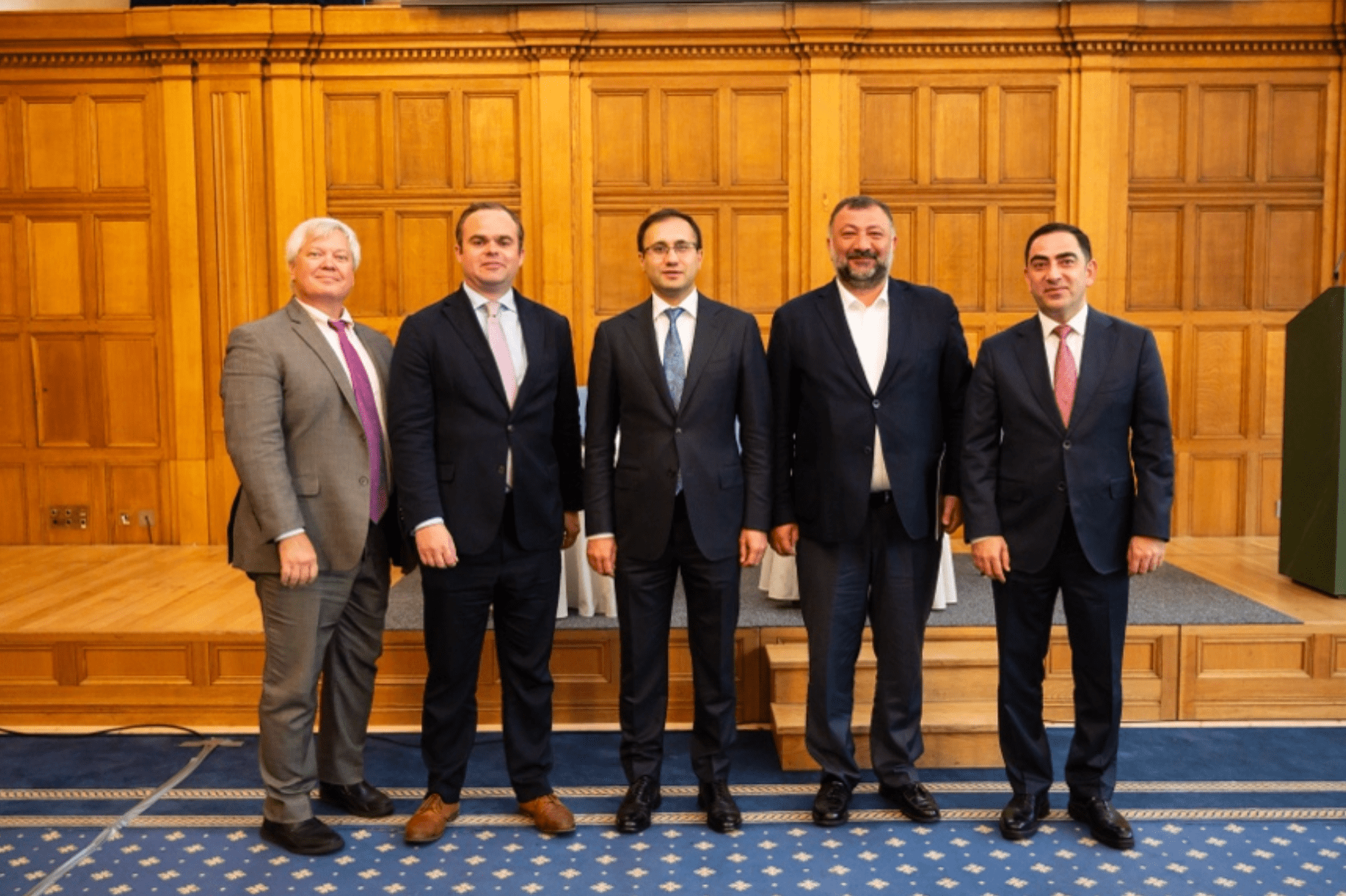 The first roundtable discussion—Areas for Economic Growth, Energy, Investment, and Development in the Caspian Region—explored how vast traditional and renewable energy reserves and developing transport links across the Middle Corridor make the Caspian countries a promising hub for international trade and investment.
The discussion was chaired by Dr. Roger Kangas, CPC Advisory Board Member, and included Dr. Taleh Ziyadov, Director-General of Baku International Sea Port; Mamuka Murjikneli, Director-General of Batumi Multimodal Terminal; and Ben Godwin, Head of Analysis at PRISM, a political risk firm based in London.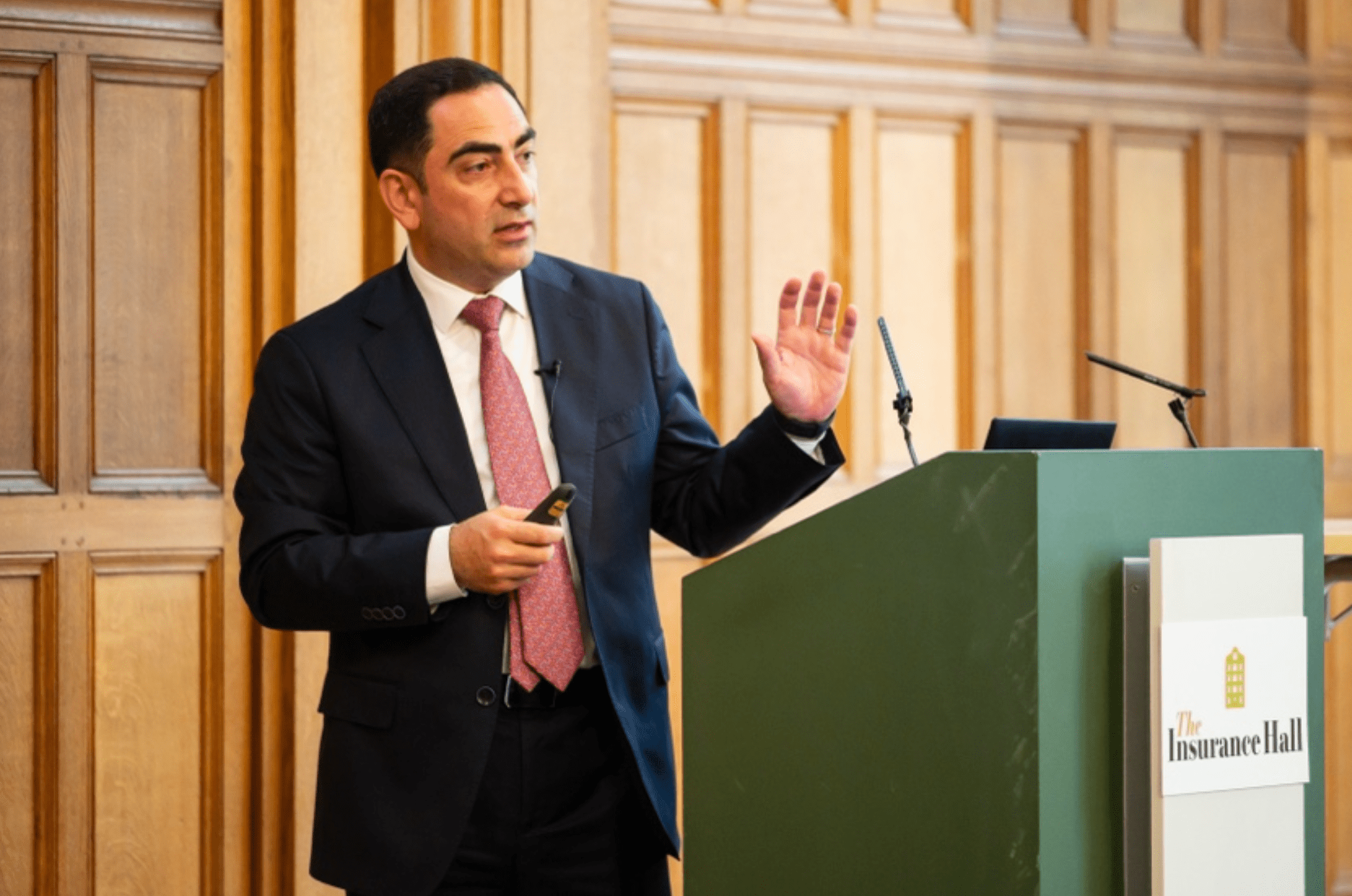 "Azerbaijan is surrounded by the countries which have big markets in terms of both GDP and import capacity. There is a huge market with the population of over 140 million people within 1,000 km radius of Azerbaijan," said Dr. Ziyadov about the potential of Azerbaijan to serve as a regional hub.
"The current macroeconomic and geopolitical environment provides consistent export-oriented growth opportunities for Azerbaijan," he added.
Mr. Murjikneli shared his thoughts on the Georgian perspective in the realm of regional connectivity.
"We definitely need to be able to handle more cargo and make more investments in our facilities and infrastructure, We are very happy about the Georgian government's announcement about getting started on a new deep sea port," he said.
"We are going to make a significant investment in the port in Georgia which will give us a chance to bring even more cargo," Mr. Murjikneli added. "We are very happy about our strategic partner Port of Baku, and we communicate daily. We need to work and grow together because the ports and railroads play a very big role in all this cargo coming in our direction."
Ben Godwin offered a glimpse into how the Western companies are seeing infrastructure in the region and shared insights into the future geopolitical interest in the region.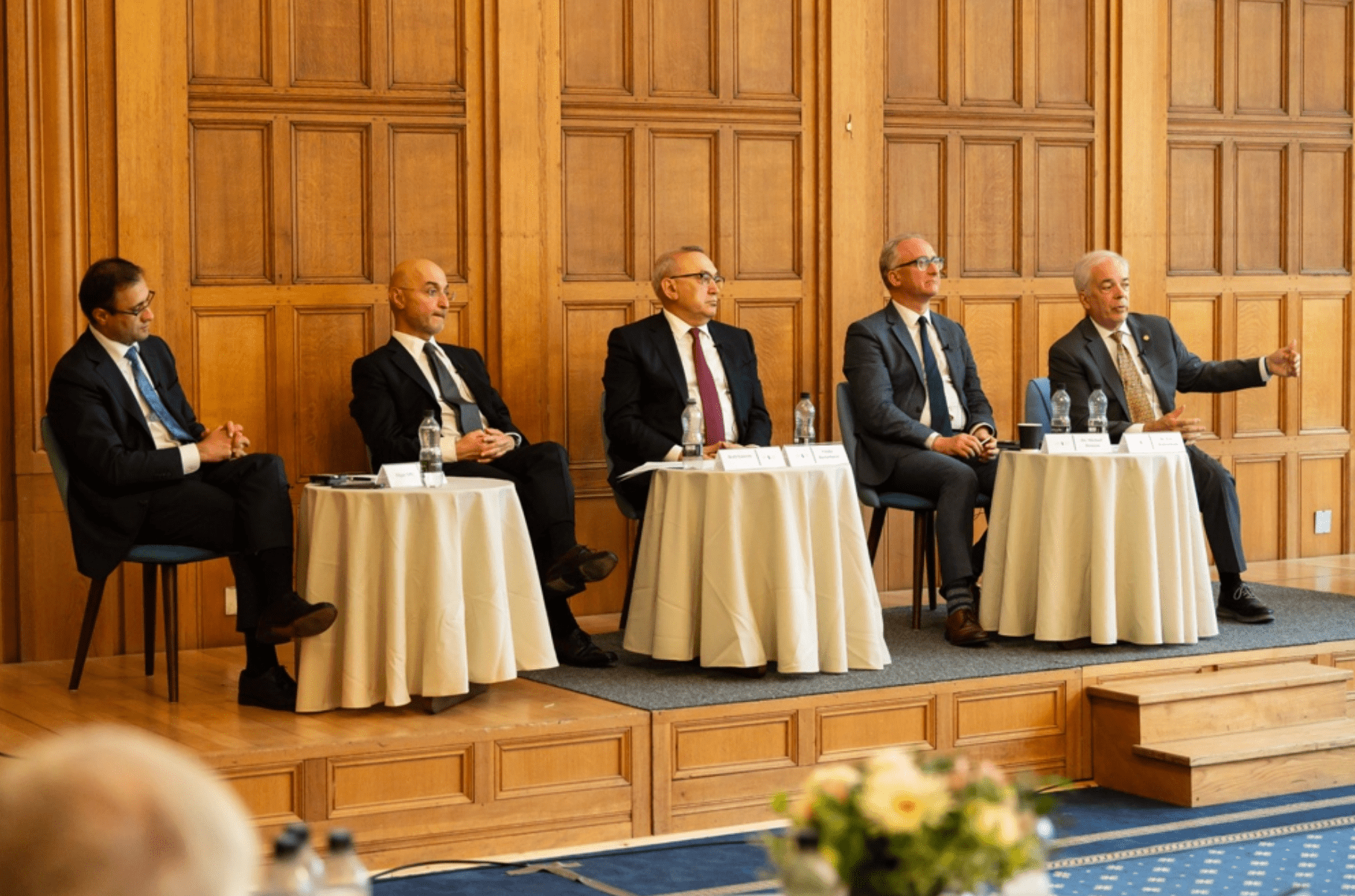 "We recognize that a transition is taking place in terms of energy. That just begs the question as to whether Western private companies are always going to be the main players in the region when it comes to oil and gas," he said.
The second roundtable discussion —Opportunities and Challenges of Energy and Energy Security in the Caspian Region —was chaired by Efgan Nifti and featured Dr. Eric Rudenshiold, Senior Development Advisor for USAID; Vitaliy Baylarbayov, Deputy VP of SOCAR; Halil Emecen, Partner at Centricus; and Dr. Michael Denison, Senior International Adviser for BP.
The discussion explored the ways countries of the Caspian countries partner with Europe and the U.K. when it comes to energy, and the importance of energy diversification.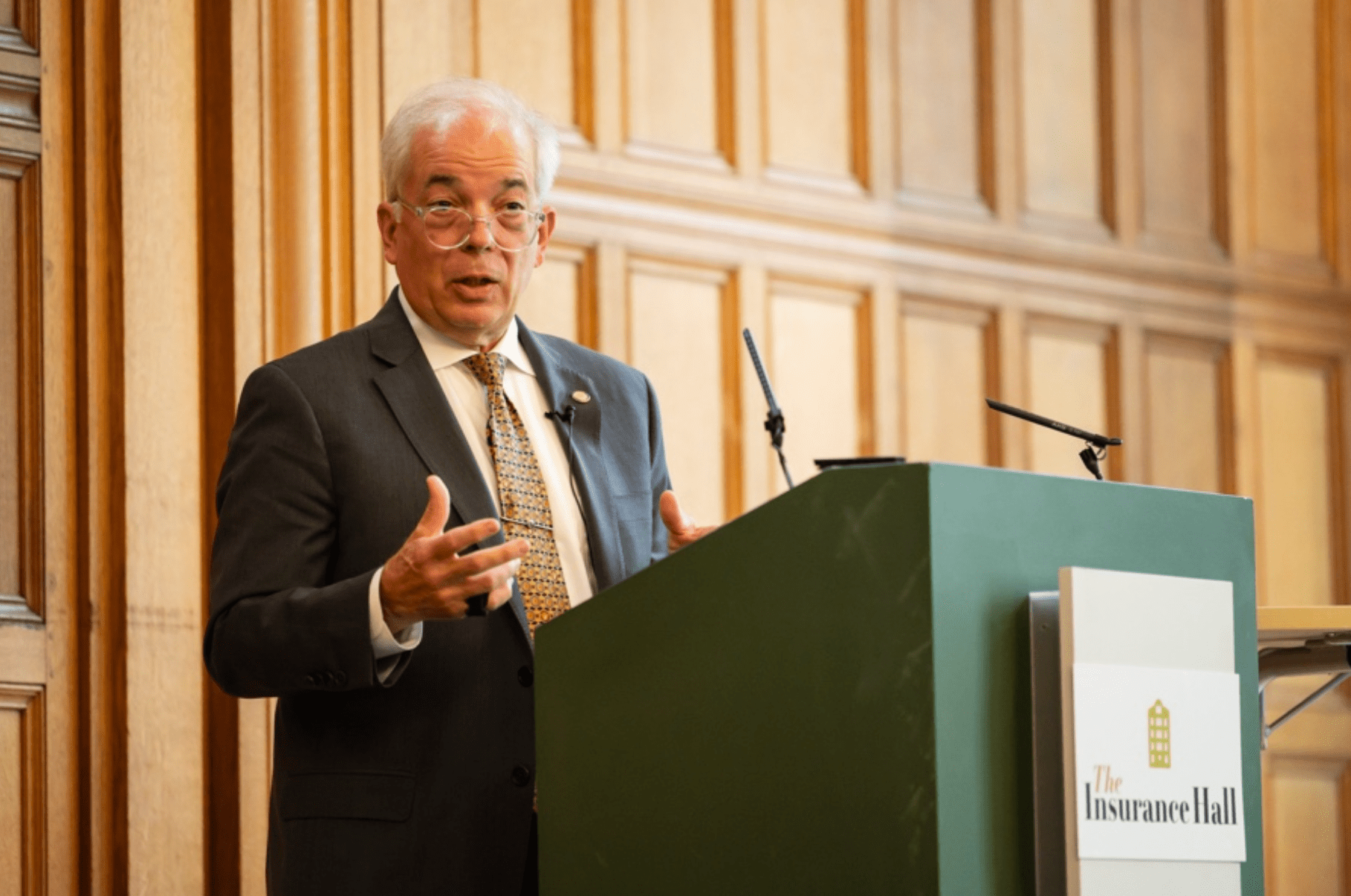 Dr. Rudenshiold addressed the current challenges facing the Caspian region in terms of connectivity and energy and shared insights on how to move forward.
"There is a shared objective in the West to see the Central Asia region and its countries be more self-sufficient, resilient, and independent. Washington's mantra of supporting the region's independence, territorial integrity and sovereignty is one articulation of this principle which is mirrored in multiple C5 and now B5 engagement platforms. These are all positive efforts to create connectivity from Central Asia across the Caspian to Europe and global markets," Dr. Rudenshiold said. "The Caspian region needs to adopt sustainable changes that will weather the peace when the war in Ukraine ends. Digitalization, enhanced trade practices, and customs harmonization are needed to make the Middle Corridor a cost effective, preferred, and attractive long-term trade and transit route."
Dr. Denison mentioned that while the region and BP still ar vested in the traditional sectors of oil and gas, there have been tangible moves to do their parts in the energy transition.
"The EU has come to Azerbaijan saying that it needs more gas. But it's not all about gas, we are focused on hydrocarbons and renewable energy, and we are starting to do that. Azerbaijan is putting legal frameworks in place, and we will join it starting with decarbonization of Sangachal Terminal, " Dr. Denison said.
Mr. Baylarbayov spoke about the progress made towards the regional cooperation when it comes to energy security.
"The cooperation among Georgia, Türkiye, and Azerbaijan together with the countries of Central Asia have grown significantly in the last few years. We are working together with our neighbors and partners for the growth of the Middle Corridor. We are trying to attract Central Asin states and we have been successful in that to a certain extent." he said.
Mt. Emecen offered a unique perspective on investing in Caspian infrastructures through the lens of finance.
"We now have a supply chain issue the world is trying to address combined with the energy security issue. The overall materials we now have is a near term equilibrium of higher rates, higher prices, and all these dislocations in the market. What does it mean for Central Asia? I think, we're definitely seeing more government involvement," he said.
About Caspian Policy Center
The Caspian Policy Center (CPC) is an independent, nonprofit research think tank based in Washington D.C. Economic, political, energy, and security issues of the Caspian region constitute the central research focus of the Center. CPC aims at becoming a primary research and debate platform in the Caspian region with relevant publications, events, projects, and media productions to nurture a comprehensive understanding of the intertwined affairs of the Caspian region.
With an inclusive, scholarly, and innovative approach, the Caspian Policy Center presents a platform where diverse voices from academia, business, and policy world from both the region and the nation's capital interact to produce distinct ideas and insights to the outstanding issues of the Caspian region.
Learn more at caspianpolicy.org