5th Annual Trans Caspian Forum Explored Trade, Infrastructure, and Energy Partnerships between the United States and Caspian Region.
Author: Caspian Policy Center
Jun 9, 2021
Speakers from the United States and the Caspian countries discussed monumental changes that the Caspian region have undergone during the global COVID-19 pandemic and how these changes create new opportunities the United States-Caspian region cooperation in the future.
Washington, D.C. — On June 9-10, the Caspian Policy Center (CPC) organized and hosted the 5th Annual Trans-Caspian Forum to explore the business, trade, and investment opportunities between the United States and the Trans-Caspian corridor countries.
This year's forum is co-organized by the Embassies of Afghanistan, Azerbaijan, Georgia, Kazakhstan, Kyrgyzstan, Tajikistan, Turkey, and Uzbekistan, and supported by the U.S. Department of Commerce and U.S. Agency for International Development, with the participation of the U.S. Department of State and U.S. National Security Council.
"The Caspian region plays a vital role in connecting people and goods across continents. The Trans-Caspian acts as a bridge between Europe and Asia and serves as a hub for commerce, infrastructure, and energy," said Efgan Nifti, Chief Executive Officer of the CPC, who opened up the Forum with his welcome remarks on June 9th. "Since the countries of the Caspian region gained independence thirty years ago, they have been important strategic partners for the United States. They have eagerly worked with Washington to enhance global energy security, combat extremism, and control the flow of narcotics and nuclear material, among countless other initiatives."
Roya Rahmani, Ambassador of Afghanistan to the United States; Elin Suleymanov, Ambassador of Azerbaijan to the United States; David Bakradze, Ambassador of Georgia to the United States; Yerzhan Ashikbayev, Ambassador of Kazakhstan to the United States; Baktybek Amanbaev, Ambassador of the Kyrgyz Republic to the United States; Javlon Vakhabov, Ambassador of Uzbekistan to the United States; and Sinan Ertay, Minister-Counsellor and Deputy Chief of Mission of the Embassy of Turkey to the United States joined the Forum to share their thoughts on how their countries would mount strong recoveries in 2021-2022 that can be supported by further international investment into the region and close collaboration with the European Union and the United States.
"We should be learning and leaning on each other to promote our collective security and prosperity. We cannot neglect to develop our soft infrastructure, which will enable digital trade and broader connectivity. Investing in infrastructure will create jobs and hope for Afghans, which will aid in the pandemic recovery process but far more importantly, economic growth will have a stabilizing effect that will help mitigate the ongoing conflict," said Ambassador Rahmani.
"The core of the Southern Gas Corridor was the regional cooperation between Azerbaijan, Turkey, and Georgia," said Ambassador Suleymanov.
"Throughout the years, Georgia has considered collaboration with its neighbors as the only way to provide stability and security to the region," said Ambassador Bakradze.
"The forum stresses the need for a reenergized, multidimensional partnership within the region as well as multifaceted cooperation between the U.S. and countries of the region both in bilateral and multilateral formats," said Ambassador Ashikbayev.
"Only by combining all of our efforts will we be able to face the challenges of our times," said Ambassador Amanbayev.
"Today, it seems clearer than ever that we cannot build a more resilient world without resilient transport interconnectivity that enables essential supplies, maintains food security and economic sustainability. Uzbekistan has made regional connectivity a centerpiece of its policy," said Ambassador Vakhabov.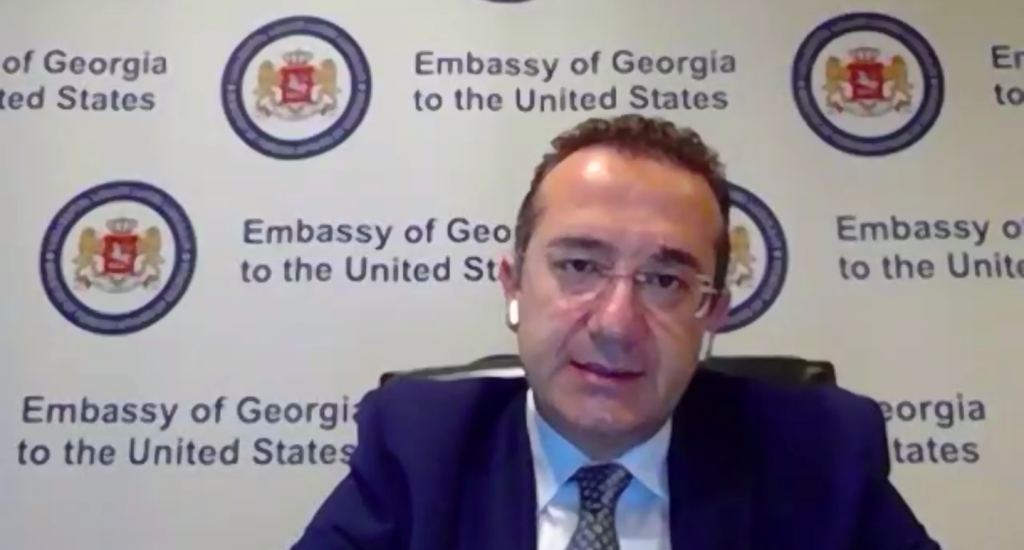 Matt Murray, Deputy Assistant Secretary of State for Trade Policy and Negotiations, Bureau of Economic and Business Affairs, U.S. Department of State; Eric Green, Acting Senior Director for Russia and Central Asia, U.S. National Security Council; and Margot Ellis, Acting Assistant Administrator, Bureau for Europe and Eurasia, U.S. Agency for International Development delivered keynote remarks at the ministerial roundtable that focused on the United States role in the region's foreign policy development to secure economic sovereignty, fight international terrorism, and support investment and private sector growth.
"The United States has been unwavering in its commitment to independence, sovereignty, and territorial integrity of all the countries in the Caspian region, and that remains a foundation of our relationship and our policy," said Mr. Green.
"The Caspian region's drive to develop its clean energy resources is emblematic of its larger goal of becoming a trading hub between European and Asian markets. To do so, cross-border trade must operate efficiently and effectively, and private enterprises must have opportunities in regional and global value chains," said Ms. Ellis.
Emil Majidov, Advisor to Minister of Economy of the Republic of Azerbaijan; Lasha Darsalia, First Deputy Minister of Foreign Affairs of Georgia; Zhaslan Madiyev, Deputy Chairman of the Agency for Strategic Planning and Reforms of the Republic of Kazakhstan; Yavuz Selim Kıran, Deputy Minister of Foreign Affairs of the Republic of Turkey; Abdurahmon Safarali Abdurahmonzoda, Deputy Minister of Economic Development and Trade of the Republic of Tajikistan joined the ministerial roundtable to provide their thoughts on the interregional and international opportunities for strategic partnerships in the Caspian region.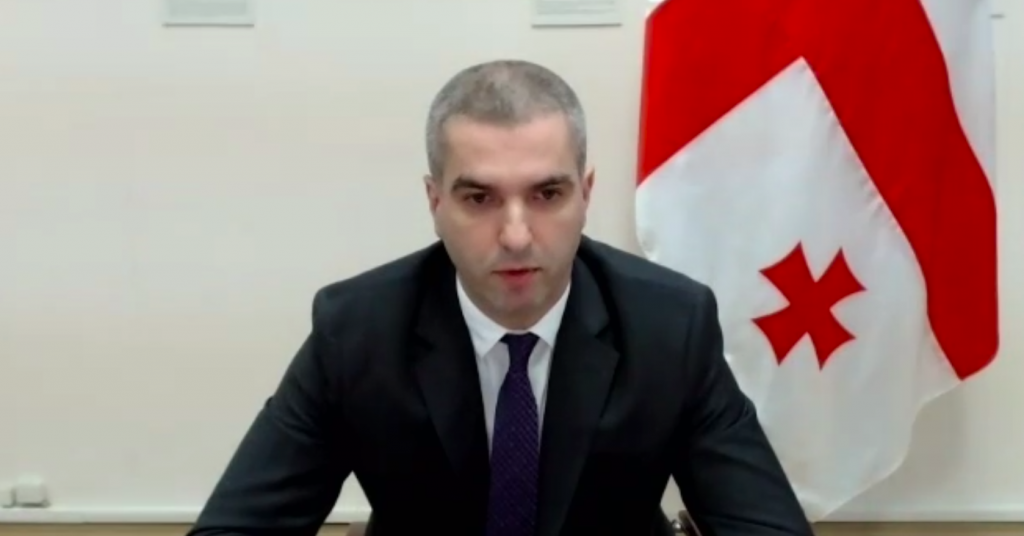 "We believe that the new situation brings huge connectivity opportunities for the region, which are important not only for Azerbaijan – they go well beyond the region of South Caucasus and create additional opportunities for Turkey and Central Asia," said Mr. Majidov.
"The Caspian region will continue to be a great example of regional cooperation in the post pandemic economic recovery. In this regard, Turkey welcomes the agreement between Azerbaijan and Turkmenistan to resolve one of the long-standing issues in the Caspian region," Mr. Kıran.
"Kazakhstan is open for any fruitful discussion with its fellow partners and has done quite a lot for potential cooperation in terms of government support and investment opportunities, although there still remain some issues that need to be discussed further," said Mr. Madiyev.
"We hope for the exchange of opportunities with the developed states to improve cooperation mechanisms and open new horizons for interaction in the areas of mutual interest," said Mr. Adburahmonzoda.
Matt Edwards, Director of the Office of Russia, Ukraine and Eurasia, Global Market-U.S. and Foreign Commercial Service, International Trade Administration, U.S. Department of Commerce, Security and Politics Program Chair at the Caspian Policy Center, moderated an insightful conversation among the Forum participants on the connectivity and infrastructure development in the Caspian region.
The panelists, Odilbek Isakov, Deputy Minister of Finance of the Republic of Uzbekistan; Arif Mammadov, Head of Transport Policy Department, Ministry of Transport, Communications and High Technologies of the Republic of Azerbaijan; Ketevan Salukvadze, Head of Transport and Logistics Development Policy Department, Ministry of Economy and Sustainable Development of Georgia; Taleh Ziyadov, General Director of Baku International Sea Trade Port; Abay Turikpenbayev, President of the Aktau International Sea Trade Port; Hiroyuki Suzuki, Chief Representative in Washington, D.C., Japan Bank of International Cooperation; Farhad Guliyev, Deputy Chairman, Azerbaijan Caspian Shipping Company; and Victor Kipiani, Chair of Geocase discussed the feasibility of new infrastructure projects and the mechanisms to appropriately finance these endeavors by foreign investors.
"At the moment, Uzbekistan is promoting projects that will connect Central Asia by the shortest route through Afghanistan, Pakistan, and the Middle East, and provide an opportunity for South Asian and Middle Eastern countries to enter the market of CIS and Europe, and for us it is an opportunity to move goods to the shortest seaport that we have," said Mr. Isakov.
"The country's strategic location with its free trade agreements creates an attractive environment for investments. Improvement of transport connectivity through both hard and soft infrastructure development is among the top priorities of the Georgian government," said Ms. Salukvadze.
At the end of the panel, the speakers have recognized the benefits of implementing infrastructure projects to achieve the Caspian region's geographical potential by designing numerous transportation corridors and connectivity strategies. The panelists identified several key infrastructure projects, including the Baku-Tbilisi-Kars (BTK) Railway, the Lapis Lazuli international transit corridor, and the new Aktau terminal ss succesful commercial project examples.
Kurt Donnelly, Acting Principal Deputy Assistant Secretary, Bureau of Energy Resources, U.S. Department of State opened up the second day of the Forum on June 10 with his keynote remarks that focused on utilizing the untapped potential of renewable energy in the Caspian region while also continuing to responsibly utilize its hydrocarbon reserves.
"Working together, we can build reliable supply chains that offer Caspian countries alternatives to those being dependent on one country. Renewable energy can meet domestic demand and strengthen regional connectivity and increase the resilience of our energy sectors," said Mr. Donnelly.
Panelists, Elnur Soltanov, Deputy Ministry of Energy of the Republic of Azerbaijan; Aliya Shalabekova, Vice Minister of Ecology, Geology and Natural Resources of the Republic of Kazakhstan; Öztürk Selvitop, Director General at the Ministry of Energy and Natural Sources of the Republic of Turkey; Vitaliy Baylarbayov, Deputy Vice President, State Oil Company of the Republic of Azerbaijan for Investments and Marketing; Giorgi Chikovani, CEO, Georgian Energy Development Fund; Robert Scher, Head of International Affairs, BP; Fawad Quraishi, Vice President and Head of Representative Office in Azerbaijan and Kazakhstan, Equinor; and Eldor Tulyakov, Executive Director of Development Strategy Center, Uzbekistan discussed the role of the commercially successful energy projects such as the Southern Gas Corridor play in the region's economy and geopolitics, and future plans to diversify the Caspian's energy portfolio beyond hydrocarbons.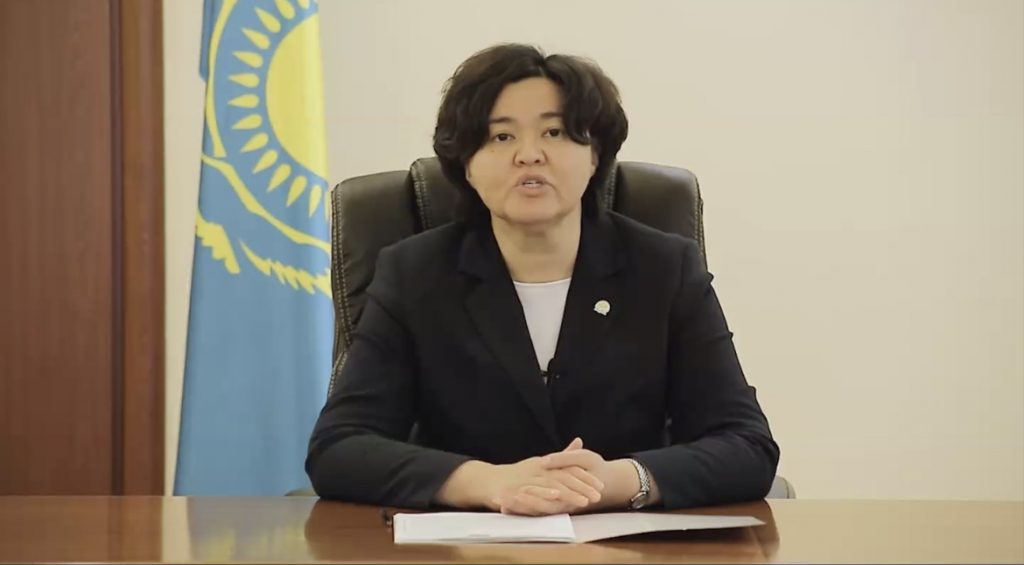 "We are rediscovering the Caspian as a source of renewable energy. Our initial assessments show that the Caspian demonstrates a huge potential for offshore wind generation," said Mr. Soltanov.
"Achieving the goal of carbon-neutrality requires a transformation of the energy industry and increasing the share of renewable energy generation," said Ms. Shalabekova.
"You may have gas reserves, you may have the strong gas infrastructure, but if you don't have a well-functioning, transparent, and competitive market, you cannot sustain the system for a long period of time. You have to adapt your market according to the needs of the dynamic energy sector. Foreign investors want to invest in a transparent and predictable system," said Mr. Selvitop.

"We in Azerbaijan believe in the necessity of regional cooperation between all involved countries. We all can work successfully together in solving our regional problems and problems beyond the region," said Mr. Baylarbayov.
"Georgia appreciates fundamental principles of European energy market architecture, which builds on the merits of market opening and competition, security of supply, extensive deployments of renewable energy, energy efficiency promotion, and low-carbon energy development," said Mr. Chikovani.
"We need to 'perform while we transform' - we know that we have to continue to operate using gas and traditional hydrocarbons, while simultaneously switching to a cleaner approach to providing energy knowing that our planet requires that. And I think this region and our work in Azerbaijan specifically is an excellent indication of that," said Mr. Scher.
"Equinor views Azerbaijan and the Caspian region as important for our business, where we have established excellent working relationships and a valuable experience of operations. We will also work together with local partners to tackle cost, market, and logistical challenges and we're also engaged with local partners on low-carbon initiatives with reduction of greenhouse gas emissions from operations, offshore wind, and low-carbon hydrogen being the topics of greatest interest," said Mr. Quraishi.
"Since 2017, Uzbekistan has been interested in improving regional cooperation, and has engaged in initiating multi-format dialogues and settling barriers of cooperation with neighbors, which creates a stimulating environment for enhancing regional energy cooperation in Uzbekistan. Reopening of the Central Asia United Power System (CAPS) promises to promote regional cooperation. Currently, CAPS links Southern Kazakhstan, Uzbekistan, and the Kyrgyz Republic. Uzbekistan has endorsed transit of Turkmen electricity to the Kyrgyz Republic and Southern Kazakhstan, with a possibility also open for winter delivery to Tajikistan. I believe these efforts will also start involving Afghanistan into regional cooperation," said Mr. Tulyakov.
Harry Bader, Deputy Assistant Administrator, Bureau for Development, Democracy, and Innovation, U.S. Agency for International Development, delivered keynote remarks on the last panel of the Forum that focused on mechanisms to encourage small business development and economic participation by historically disadvantaged groups.
"We advocate for access to a global digital ecosystem that fosters capitalism, individual free expression, and democracy. We see a global digital ecosystem that can stimulate investment, protect private capital, and expand the horizons of every citizen in every country," said Mr. Bader.
The panel, moderated by Ambassador (ret.) Susan Elliott, a Senior Fellow at the Caspian Policy Center and former U.S. ambassador to Tajikistan, facilitated a productive dialogue among the panelists Orkhan Mammadov, Chairman of the Management Board of the Small and Medium Business Development Agency of the Republic of Azerbaijan; Avtandil Kasradze, Head of Georgia's Innovation and Technology Agency; Lazzat Ramazanova, Chairman of the National Commission on Women's Affairs and Family and Demographic Policy under the President of the Republic of Kazakhstan; Malika Jurakulova, Gender Adviser at the USAID Tajikistan Mission; Umid Abidkhadjaev, Director of Institute for Forecasting and Macroeconomic Research under the Ministry of Economic Development and Poverty Reduction of the Republic of Uzbekistan on fostering innovation and entrepreneurship as a vital way of rebuilding the region's economy in the post-COVID world.
"With a view of creating an enabling SME environment, our agency has introduced various support mechanisms. We analyze the current environment to make sure that our support is tailored to the needs of local SMEs, including particular groups in rural areas, such as youth and women," said Mr. Mammadov.
"We're supporting innovative ideas that have global potential, so we need to have a network outside of the country. That's why cooperation with the U.S. private sector – venture funds and accelerators – is vital for Georgia's development," said Mr. Kasradze.
 "Women need online trading platforms as existing online market systems are not available to women in rural areas," said Ms. Ramazanova.
 "COVID-19 pandemic imposed movement restrictions across and outside of Tajikistan. The world practice during COVID has proven the importance of utilization of e-commerce and digital tools such as international delivery services," said Ms. Jurakulova.
"At present and in the future, the competitiveness of the country in the global economy depends on the level and quality of information technologies," said Mr. Abidkhadjaev.
To learn more about the 5th Annual Trans Caspian Forum and its agenda for both days, visit transcaspianforum.org.
---
ABOUT CASPIAN POLICY CENTER
The Caspian Policy Center (CPC) is an independent, nonprofit research think tank based in Washington D.C. Economic, political, energy, and security issues of the Caspian region constitute the central research focus of the Center. CPC aims at becoming a primary research and debate platform in the Caspian region with relevant publications, events, projects, and media productions to nurture a comprehensive understanding of the intertwined affairs of the Caspian region.
With an inclusive, scholarly, and innovative approach, the Caspian Policy Center presents a platform where diverse voices from academia, business, and the policy world from both the region and the nation's capital interact to produce distinct ideas and insights about the outstanding issues of the Caspian region. Learn more at caspianpolicy.org.
PRESS CONTACTS
For further information or to arrange an interview with our experts, please contact us at [email protected].