AIFC: The Rise of Virtual Arbitration Amid the COVID-19 Pandemic
Author: Wilder Alejandro Sanchez
Apr 13, 2020
Governments, businesses, industries, and people worldwide are adapting to the "new normal" that is the Coronavirus (COVID-19) pandemic. Investment and commercial arbitration is no different.
The AIFC in 2020
Kazakhstan's Astana International Financial Centre (AIFC), opened its doors in 2018 and has striven to become the premier financial and investment hub not only for Kazakhstan, but also for Eurasia. Its bodies include the Astana International Exchange (AIX), the AIFC Court, which can handle cases related to finance, construction, trade, insurance, IP, energy, subsoil, and contracts, and the International Arbitration Centre (IAC). The Centre's rules resemble those of the leading arbitration bodies around the world, such as the London Court of International Arbitration and the Hong Kong International Arbitration Centre. The IAC has 37 international arbitrators, according to the Center's website.
According to a December 2019 AIFC summary of its annual achievements, last year marked the AIFC Court's first litigation and judgment on a non-payment dispute between an AIFC Participant and a foreign party. Meanwhile, "the IAC recently received its first arbitration case and hosted three mediation cases." In early April, the IAC further confirmed 57 successfully resolved mediation cases, applying its house rules, and there are two currently pending arbitration cases.
Even more, the offices of Chevron in Kazakhstan and the joint energy venture Tengizchevroil LLP "have now taken steps to include the IAC as their preferred institution for resolution of commercial disputes in Kazakhstan," according to IAC's February press release. Such an action by an energy giant like Chevron shows confidence in the AIFC's institutions for the resolution of its future disputes and marks a great success and a major victory for the IAC.
With that said, there are a few issues that will influence how much the AIFC Court and IAC will manage to expand their list of clients in the coming years.
Like any business, being new can be challenging, as counsels will likely prefer to go to either more well-established arbitration centers like the International Centre for Dispute Resolution (ICDR) and the International Chamber of Commerce (ICC), or to ad-hoc arbitration – contracts between parties will generally stipulate what kind of arbitration rules the parties agree to apply.
There is also the issue of distance, as the AIFC is based in Nur-Sultan, whereas the ICC is based in Paris; ICDR has offices in New York, Miami, and Singapore; and Turkey's Istanbul Arbitration Centre is located in a regional financial hub very close to European capitals. (Legal experts will be quick to note that an arbitration case can be held in Paris, but apply AIFC's rules; while this is true, the AIFC's primary goal should be to attract clients to its facilities and resources, not just its rules).
In order to attract clientele, the AIFC is investing heavily in technology, as it has created an e-filing system, called e-Justice, so that clients can submit claims and other paperwork online and participate in hearings remotely. Other arbitration institutions like the aforementioned ICDR also have e-filing systems, hence the AIFC is meeting international standards.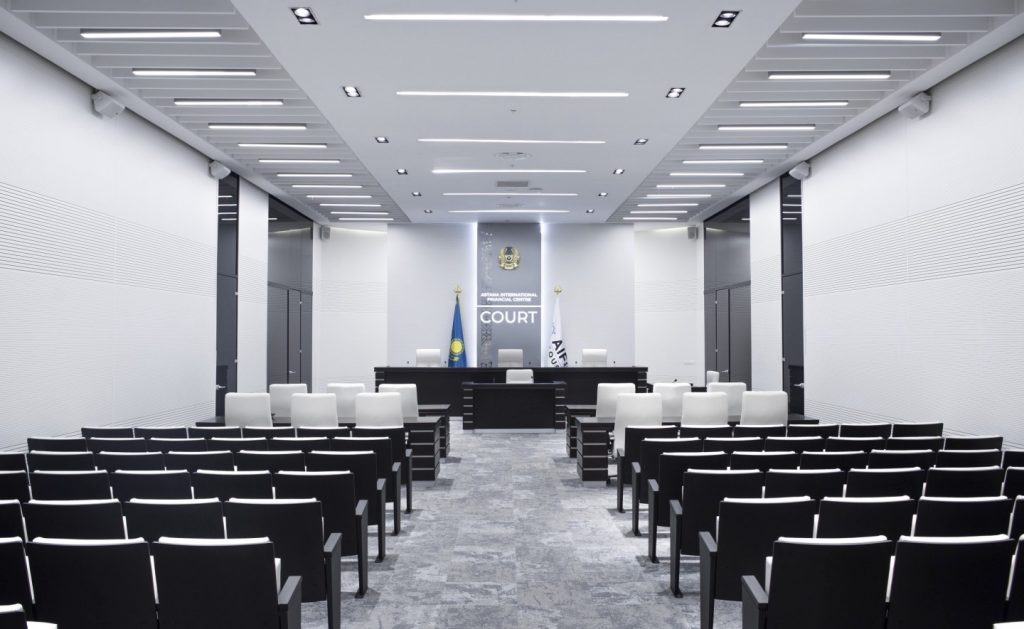 COVID-19 and Virtual Hearings
As COVID-19 spreads worldwide, teleworking has become the new lifestyle for various industries, including arbitration. For example, "preliminary conferences with arbitrators and interviews with witnesses can take place by phone or video-conference. Arbitrators can deliberate over the phone, video-conference, and email," explains a recent and appropriately titled commentary, "International Arbitration in the Midst of COVID-19," by John Fellas, a partner at Hughes Hubbard & Reed.
Furthermore, the recent Willem C. Vis International Commercial Arbitration Moot was held virtually, with the participation of around 250 teams (in addition to arbitrators and support staff). Such gatherings demonstrate that major legal processes, with multiple parties across various geographical locations, can interact successfully in a legal proceeding.
Nevertheless, as any arbitrator knows, in addition to a written submission, a fundamental aspect of arbitration processes are hearings, which are invariably held in person. The reason for that lies in the paramount importance of open debate, expert speaker discussions, breakout sessions, and cross-examination "that help establish facts or points of view that can change the course of the trial." Similarly, as Canadian arbitrator Janet Walker argues, virtual hearings do not allow to capture the 'look and feel' of the witness's evidence on-screen and for the tribunal members to discern body language, facial expressions, and tonal changes.
Given the ongoing pandemic, people in general do not want to travel – and it would not be easy in any case, given the current status of the commercial aviation industry. Hence, arbitrators are looking to either postpone cases or are turning to video-conferencing and other online tools.
Thankfully, there are already documents in place, like the Hague Conference Draft Guide that can guide arbitration centers and law firms to figure out how properly to carry out a virtual hearing. For example, the Hague Guide addresses important technical aspects of a virtual hearing, like "video-link witness evidence, considering time differences and operating outside regular business hours; introducing documentary evidence via video link; a protocol for speaking and interruptions where there is a delay between the picture and the sound;" among other key details. Even room layout, acoustics, and lighting are mentioned in the said document making it a veritable cornucopia of information.
There are certainly some things that virtual hearings cannot do, but overall the pros outweigh the cons. For example, software and dedicated technicians who also participate in hearings remotely can ensure that relevant documents are available to all parties as part of electronic bundles. A positive outcome of this technology is that "participants in a hearing are able to see the documents on which a witness is being examined or to which counsel is referring far quicker than in traditional hearings," Walker explains.
Other legal experts interviewed by the author of this commentary have been similarly supportive of virtual hearings, noting that "as long as you have a good Internet connection, the flow of the proceedings can go on smoothly."
The IAC and Virtual Hearings
In recent years, we have seen several new arbitration centers appear in various across the world. One key fact to keep in mind is that in order to attract clients and showcase that they are a 21st-century arbitration institution, it is not solely important for these bodies to have capable and well-known arbitrators, as well as clear and concise house rules. It is similarly essential for these new institutions to demonstrate that they have the infrastructure and technology – conference rooms, printing services, webcams, and Internet speed – to handle complex arbitral cases.
Hence, the current "new normal" that the world is adjusting to presents an opportunity that the AIFC can capitalize upon. While virtual hearings are not the same as face-to-face interactions, COVID-19 is an event of force majeure that is forcing arbitrators to adjust their work by doing it through a screen. The AIFC Court and IAC can stress to potential clients that their teleconferencing abilities and facilities, in addition to their list of arbitrators and staff, are well-suited for these types of virtual legal proceedings.
Of course, such change will not take effect right away, as arbitration clauses cannot be suddenly changed to choose a different seat of arbitration – meaning the location where the arbitration process will be held. With that said, the AIFC can use this crisis to support the advantages of virtual legal proceedings and potentially fast-track relatively inexpensive cases, thereby attracting more clients further down the line.
Concluding Thoughts
As the Coronavirus pandemic and industries resort more to virtual work, arbitration should regard virtual hearings not as a last resort if physical hearings are not possible, but rather as a viable alternative, even after the current global health crisis is resolved. As this analysis has demonstrated, if administered properly, virtual hearings can be just as effective as physical ones.
It is in this new reality that we find the AIFC: two of its bodies, the AIFC Court and International Arbitration Centre have been successful at attracting clientele in the competitive arbitration industry. The fact that an energy giant like Chevron is looking to list the IAC as a potential arbitration seat is a big accomplishment as it showcases how major global companies acknowledge the IAC's and AIFC Court's capabilities. The next goal is to further demonstrate that the IAC should be regarded as a feasible seat for virtual arbitration hearings.
* The author would like to thank L.S. for editorial advice and legal expertise.
Wilder Alejandro Sanchez is an analyst who focuses on geopolitical, military, and cybersecurity issues. He covers the Western Hemisphere and Post-Soviet regions. Follow him on Twitter: @W_Alex_Sanchez.