CPC - Caspian Policy Center
Events
4th Caspian Business Forum
4th Caspian Business Forum
The Caspian Policy Center is proud to host this event to bring together prominent voices in business, government, and non-profits to discuss new business challenges and opportunities for the Caspian region. The forum will bring together policymakers, business leaders, and members of the academic community at the Harvard Club to discuss the emerging business landscape across the South Caucasus and Central Asia.
September 19, 2023
The Harvard Club
35 W 44th St
New York, NY 10036
5:30 pm - 9:00 pm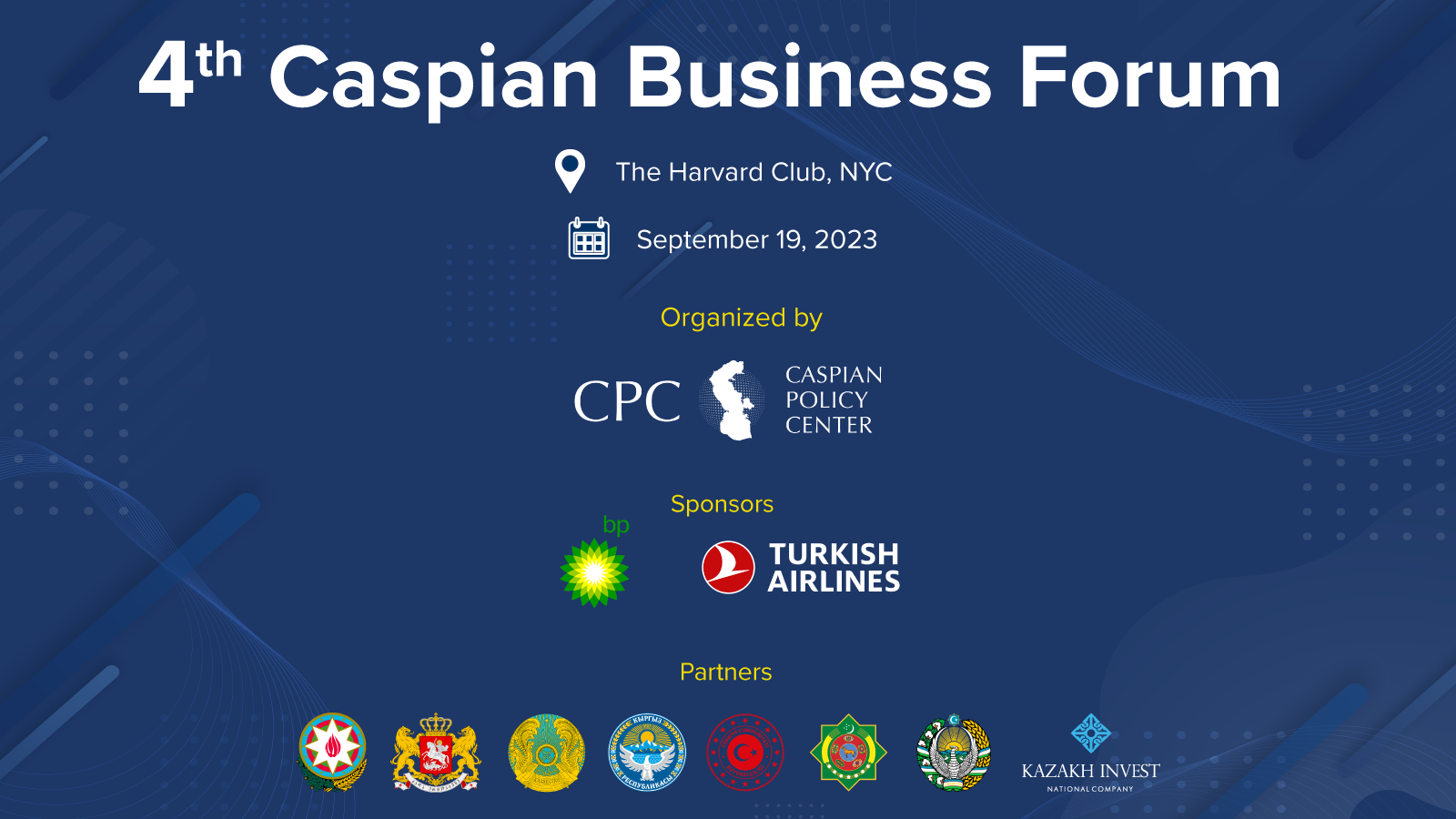 ---
AGENDA
5:30 PM-6:00 PM Registration and Reception

6:10 PM - 7:30 PM Panel 1 – United States-Caspian Strategic Partnership
Since the establishment of diplomatic relations between the United States and the countries of the Caspian region, the partnership between the countries has grown to include cooperation across multiple engagement sectors. With timely challenges such as Russia's war in Ukraine and the energy crisis, the United States remains committed to deepening its relations with the Caspian region. The Ministers of Foreign Affairs of the countries of the Caspian region will discuss the U.S. partnership with the region and opportunities to expand cooperation.
6:00 PM – 6:05 PM Welcome Remarks
Efgan Nifti, CEO, Caspian Policy Center
6:05 PM – 6:50 PM Keynote Remarks
Moderator: Ambassador (ret.) Richard Hoagland, Board Member, Caspian Policy Center

• Geoffrey Pyatt, Assistant Secretary, Bureau of Energy Resources, U.S. Department of State
• Kubanychbek Omuraliev, Secretary General, Organization of Turkic States (OTS)
•. Jeyhun Bayramov, Minister of Foreign Affairs of Azerbaijan
•. Lasha Darsalia, First Deputy Minister of Foreign Affairs, Georgia
• Ardak Zebeshev, Chairman of Investment Committee, Ministry of Foreign Affairs, Kazakhstan
• Burak Akçapar, Deputy Minister of Foreign Affairs, Türkiye
• Foreign Ministers and high-level representatives from Trans-Caspian countries


7:00 PM - 7:50 PM Panel 2 – Connectivity and Investment

The pandemic and Russia's war in Ukraine have caused lasting effects worldwide. International business and connectivity have proved vital in sustaining global supply lines and addressing rising energy prices. To examine the current and future of business ties between the United States and the Caspian region, the Caspian Policy Center has invited business and government leaders with experience in the region's unique environment to discuss what worked well in the past and what can be improved.

7:00 PM – 7:50 PM Panel Discussion
Moderator: Admiral (ret.) Ron MacLaren, Advisory Board Member, Caspian Policy Center
Opening remarks: Anjali Kaur, Deputy Assistant Administrator of the Bureau for Asia, United States Agency for International Development (USAID)

• Tomoyuki Hirata, Chief Representative for Washington D.C. Office, Japanese Bank for International Cooperation (JBIC)
• Meirzhan Yussupov, Chairman, Kazakh Invest, Kazakhstan
• Giorgi Khojevanishvili, Deputy Director-General, Batumi Multimodal Terminal, Georgia
• Eugene Seah, Chief Operations Officer, Baku International Sea Trade Port, Azerbaijan
• Other senior corporate representatives

7:50 PM – 8:00 PM Break

8:00 PM - 8:50 PM Panel 3 – Energy and Climate
Vast traditional and renewable energy reserves along with natural resources coupled with developing transport links along the Middle Corridor establish the Caspian countries as a promising hub for international trade and investment. Furthermore, with the ensuing energy and climate crises, the need for energy transition and attention to green energy have become more important than ever.

7:45 PM – 7:50 PM Introduction

7:50 PM – 8:55 PM Panel Discussion
Moderator: Eugene Chausovsky, Senior Director, Analytical Development Department, New Lines Institute

• Robert Scher, Head of International Affairs, BP America
• Vitaliy Baylarbayov, Deputy Vice President, SOCAR, Azerbaijan
• Jubo Turashvili, Head of Energy Policy and Investment Projects Department, Ministry of Economy and Sustainable Development, Georgia
• Kakajan Berdiyev, Managing Partner, Maslahatçylar HJ, Turkmenistan
• Other senior corporate representatives

8:55 PM – 9:00 PM Closing Speech

Thank you for your consideration, and we look forward to welcoming you to the 4th Annual Caspian Business Forum.
For more information, please contact Josephine Freund at [email protected]